Discover some crucial information about the cost of repairing a garage door and some of the best ways to repair it.
Garage Door Repair Can Be a Headache
We have all seen many good old overhead garage doors that rely on spring tension, whether they reel up in parts or swipe up in one piece. The doors operate on a metal track that is controlled by one or many heavy strings. If the door is fitting well with the tracks, the repair needed is fairly easy to do and does not cost much.
These repairs should be a clear cut process. The customer should be accurately informed of what the issues are and how the repair will be done along with its cost. However sadly, with many garage door repair companies, that is not what happens.
This is why the customers must have a clear picture of what needs to be done. This will make the whole repair process straightforward.
used with permission from Millhaven Homes
Things That Should Be Done During the Repair Work
We always try to do everything possible to add more value to our homes Just like applying fine hardwood floors to cleaning up every corner of the house, it is also vital to look after the garage and front yard as that is also a part of our loved and cherished home.
If you find yourself in trouble with your garage door, the wisest thing to do would be to call up a repair company like garage roller door repairs. They will make life way easier, and you can completely rely on their work without worrying about being charged exorbitantly.
Get the Inspection Done
If your garage door is wedged or simply makes a peculiar sound, a 25-point inspection will help trace the origin of your problem. Your technician will carefully check the batteries on your remote through the test, along with the restoration of your picture eye laser sensor, standardize your remote as well as your limit switch, and ensure the belt or chain of your garage door is on the pin.
This is mainly done when a quick fix is required. It is very helpful and can aid you in finding any other fault that may be in hiding and costs only $39.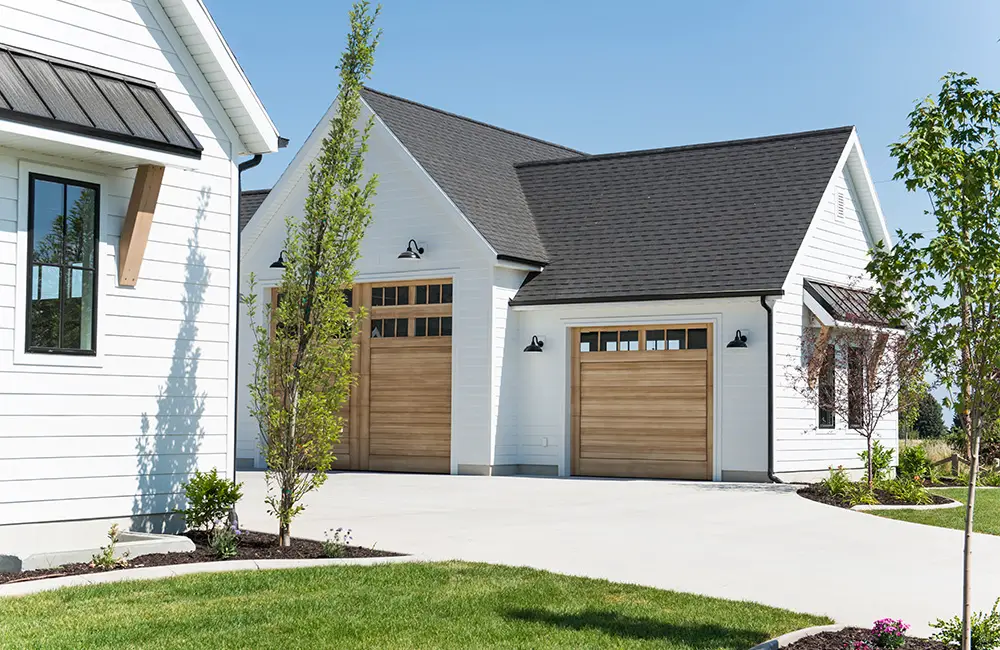 used with permission from Millhaven Homes
Keep an Eye on the Hardware
Tracks that intend to direct the rollers are gathered in parts on an overhead garage door and cling on to the garage with brackets. Be certain of the parts so that they are properly secured and that the bracket grabbing on to the screws and bolts are robust.
Examine the Balance of the Door
In order to lift it up and down, a garage door should only need a few pounds of pressure. A power garage door opener will require a harder effort to raise the door if the coils wear out and lose their sustainability. This can fatigue out the motor on the opener easily. For a skilled technician, replacing worn-out springs is generally an easy process.
Want to Install a New Door Opener?
Do you need to install an update to the door opener of your garage?
Usually, the more cost-effective alternative is chain-driven garage door openers whereas belt-driven openers are rationally priced and work a little more effortlessly. Most garage repair firms charge up to $650 for certain belt-driven openers.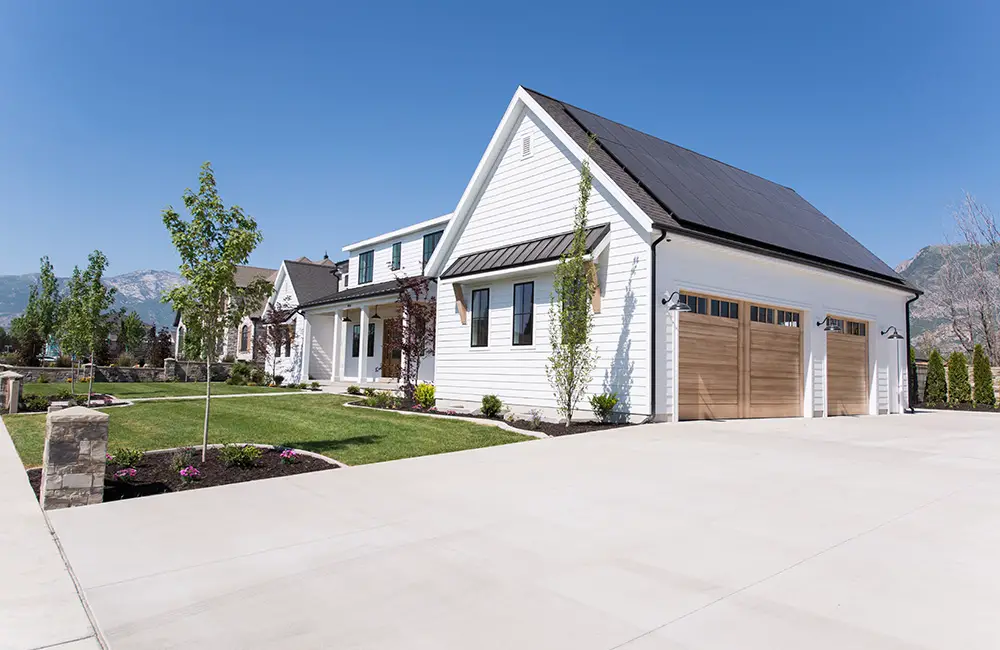 used with permission from Millhaven Homes
Do You Have a Frozen Garage Door?
Is your garage door just stuck there, leaving you feeling like Elsa? It is winter, and all you want to do is open your garage door easily. Unfortunately, that's just the sort of day when humidity and low temperatures will conspire to make things difficult.
The ice will freeze your garage door to the floor, and honestly, even Elsa won't be able to help you. Do not be stressed because we provide the perfect solution.
To melt the ice and set the door open, you can use a heat gun or a hairdryer. Generic items for de-icing will work as well. You can use a flat shovel or a similar tool to chip away at the ice, but you need to be cautious not to harm the door or the seal on the bottom of the door.
Is your Door Snoring?
A garage door that makes a lot of noise can bring forth many issues, especially for those whose rooms are located right above or beside the garage. Luckily, with a combination of regular maintenance and the replacement of a few components, most of the noisy garage doors can be fixed.
If a noisy garage door is not silenced by the simple maintenance tips mentioned above, you might need to repair the door's hinges. The rollers in the metal tracks can also very slowly lose their working potential and become clamorous when their bearings do not roll or spin.
Safety Should Always Come First
Horizontal garage doors carry hundreds of thousands of pounds, and safety booby traps may be doors that are not regularly managed or that are fitted with older automatic garage door openers. The horrific tales of garage doors hurting or even killing children or pets who were under a closed-door are all too familiar.
Fully preprogrammed openers that contain auto-stop and auto-reverse mechanisms have drastically lowered such incidents, but if the door and door opener do not function correctly, accidents can still happen.
Security is a Big Issue
The garage you use every day, not to mention your car, is very likely to store thousands of dollars' worth of equipment and household belongings. But usually, this room is very convenient for intruders to enter. By installing a new garage door opener that features digital codes, which can thwart even the most tech-savvy prowlers, garage security can be greatly improved.
So Don't Rush to Repair. Make an Informed Decision Regarding your Repair Costs
So now that you have a better idea about how much it would cost to get your garage door fixed. The stated prices are just averages. So make an intelligent choice! Thanks to FixQuick for consulting!