With the arrival of cooler weather also comes the instinct to nest and make your home cozy and inviting. Since many of us are social distancing or quarantining, making one's home a comforting retreat is going to be taken up a notch this year. Below are my tips for bringing your A-game to home decor this season.
White Oak flooring – Carlisle Wide Plank Floors
Being present in your home
First, being present in your environment is more beneficial than ever. When you're spending more time in your home, you are likely to notice things more than if you were going in and out for meetings, get togethers, etc. Therefore, you want to make sure your home's layout, palette, and decor reflect that.
Hickory flooring – Carlisle Wide Plank Floors
You might find you are no longer clutter blind to the pile of catalogs that have been sitting on your side table for the past year. Or you will notice that your old carpeting no longer gives you a warm feeling when you walk on it. Maybe you will find more joy and comfort in wide plank hardwood flooring full of natural character that you feel as you walk across it. This brings me to the next segment.
White Oak flooring in a Herringbone pattern – Carlisle Wide Plank Floors
Create a warm inviting home using nature-inspired materials
Second, nature is a great way to add coziness and inspire mindfulness. The most positive impact will be felt the bigger the change you can make. Can you swap out your MDF cabinets for some beautiful maple cabinets? Add warmth and comfort by upgrading or refinishing your hardwood floors? Maybe even go with a patterned wood floor?
White Oak flooring in a Hexagon pattern – Carlisle Wide Plank Floors
If a large remodeling project isn't feasible right now, consider using decor inspired by nature. Wood picture frames, beautiful agate bookends, or a luxurious wool throw are all easy ways to deliver an extra layer of coziness to your home. Adding houseplants and incorporating rich textures and warm neutrals along with a pop of color can also increase the cozy factor.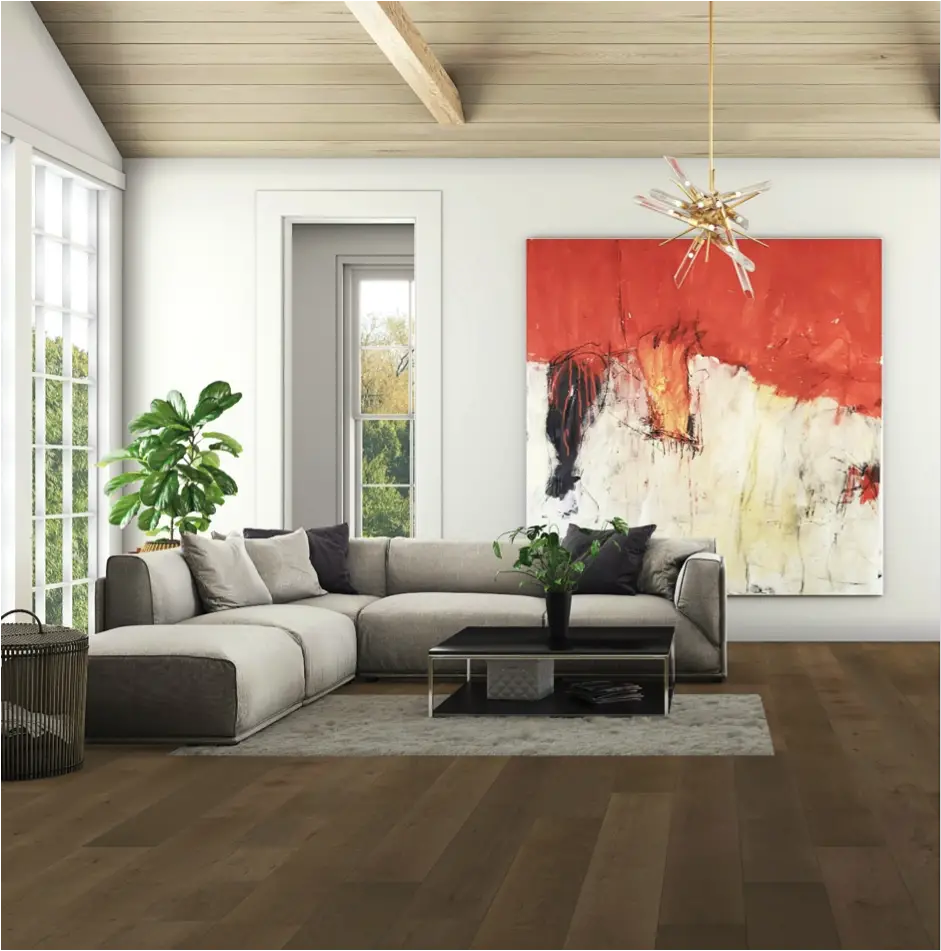 White Oak flooring in Sanctuary from the Tranquil Collection – Carlisle Wide Plank Floors
Use cohesiveness to bring a sense of rootedness to your home
Lastly, the ultimate and most overlooked way to add coziness to your home is to lay down a foundation or cohesive theme that flows throughout your entire space. This can mean using gorgeous grasscloth wallpaper in all the bedrooms. Or consider replacing your existing floors in the kitchen and great room with that Hickory or Reclaimed Oak wide plank flooring you've had your eye on.
Reclaimed Oak flooring in a Hamptons living room – Carlisle Wide Plank Floors
Practicing mindfulness and paying attention to your environment means you will doubly appreciate the amazing grain and character of the planks of wood. That mindfulness will create joy, which in turn will impart a sense of contentedness and well-being.
White Oak flooring in Ocean Sand from the Casual Collection – Carlisle Wide Plank Floors
How do you create a cozy home? Will you be doing anything above and beyond this year since we will all be spending more time indoors? Thanks to Carlisle for consulting!
Visit Carlisle Wide Plank Floors to see even more beautiful floors.