When you are lucky enough to own a beach house, you'll have plenty of guests all summer long. So, to make space for all your friends and family, consider some of these fabulous makeover ideas and transform your beach house into a coastal vacation getaway.  
1. Serene Screened-In Porch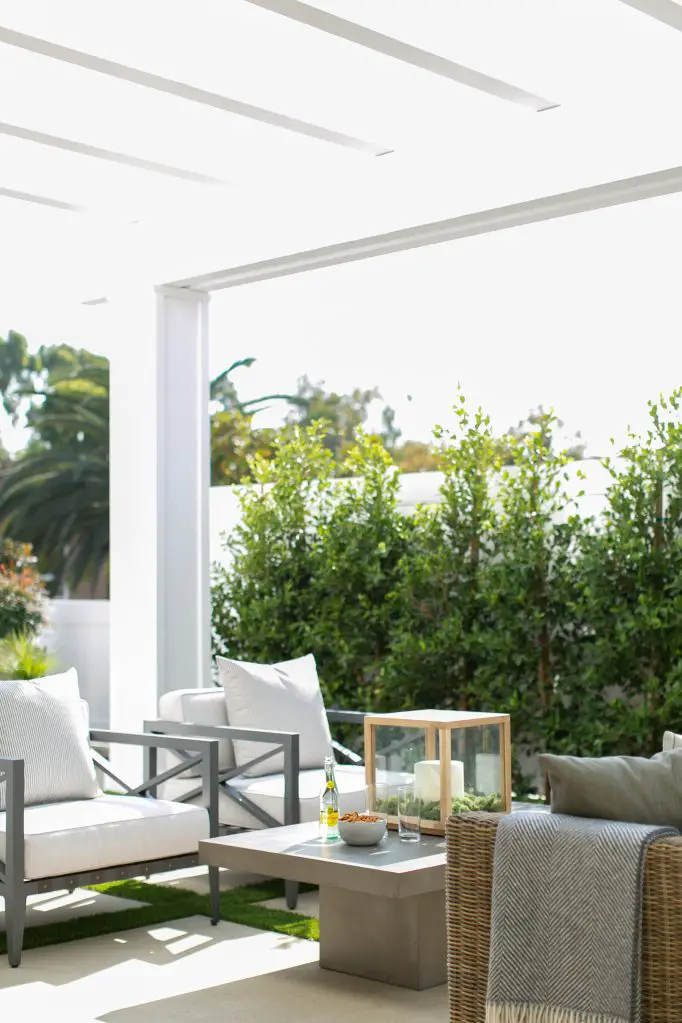 Spend balmy summer afternoons lounging with friends and family on your beach home's screened-in porch. Enclosing the space keeps out the bugs and provides a shady area to entertain. Window treatments for sliding glass doors ensure you have privacy from the neighbors and stops the porch from overheating in the midday sun.
Stop the chill off the ocean breeze at night by building an indoor fire pit in the middle of the porch's seating area. You'll need to install a chimney or ventilation hood to prevent smoke damage and minimize the fire risk.
Decorate the space in calming, neutral colors with rattan furniture. Add large potted plants and fairy lights to create an inviting space with such ambiance that it will become your favorite room for socializing. 
2. Outdoor Kitchen and Entertaining Area
Beach houses are serene getaways where you can invite friends, family and neighbors to kick back and relax. An outdoor kitchen and entertaining area lets you soak up the glorious summer sun, socialize with friends and feed a crowd.
An outdoor kitchen is more than just a grill and a seating area; this space should be fully equipped with everything you need to whip up incredible dishes and beverages, making the most of the extra daylight hours.
When designing an outdoor kitchen, ensure there are multiple cooking apparatuses, including a stovetop, grill and smoker. In addition, invest in a mini-fridge to keep ingredients cool and, if you install a bar as well, purchase an ice maker for chilling cocktails.
Place the seating area approximately six feet away from the cooking area; this distance prevents people from inhaling the smoke while still keeping guests close enough for conversation. Rattan or wicker is an excellent choice for outdoor furniture, and you can get upholstery in a variety of colors and prints to continue the coastal theme from your home's interior.
3. Nautical Reading Nook
Whether it's a rainy day or you just want to spend some time relaxing with your favorite author, a reading nook is an ideal space.
If your beach home doesn't have an ocean view, you can create your own. Simply place a chaise longue near a window, with an oversized seaside canvas print on the opposite wall. Install bamboo blinds in the window and a matching wicker accent table next to the chair. Add a couple of blue and white throw pillows and an ocean-inspired throw for a nautical touch.
If you have a lot of younger visitors, create a special reading nook for them in an unused space underneath a staircase. Install a custom bench and some pendant rope lights, and add a cushion and pillows in kid-friendly designs like seahorses or starfish. This versatile space can even double as an extra bed for sleepovers. 
4. Tropical Dining Room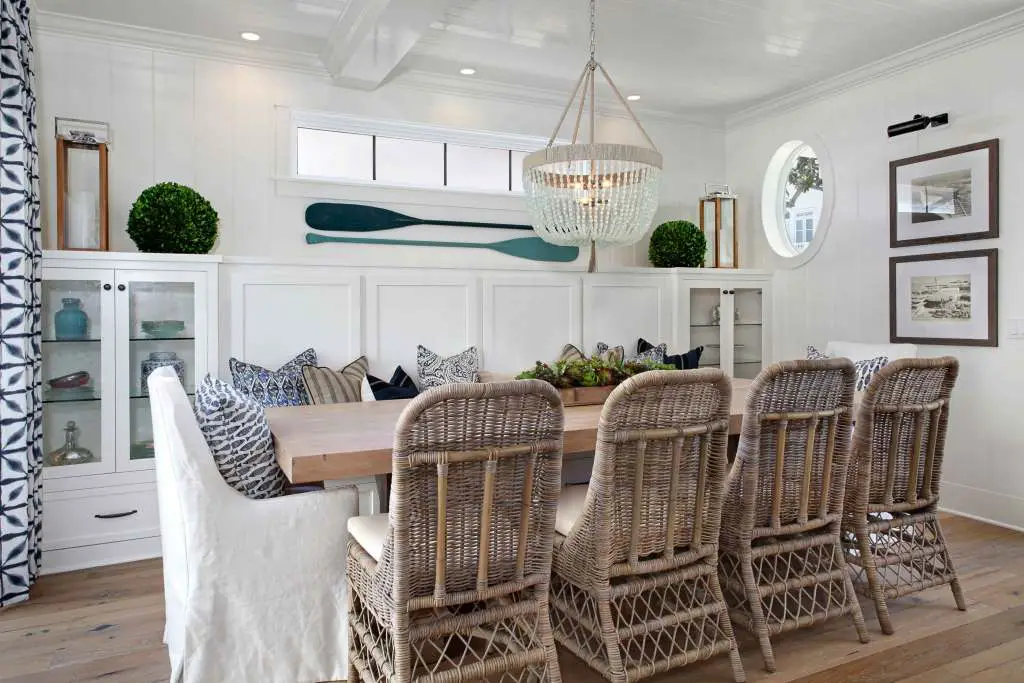 The kitchen and dining room are at the heart of every home. Create an inviting place for people to congregate by transforming your dining space into a tropical paradise.
Natural wood and plenty of greenery are the cornerstones of tropical style. Install tropical hardwood floors and an oversized live edge dining table and similar rough-hewn chairs. If you're concerned about the longevity of a hardwood floor with sandy feet, there are several alternatives, such as large stone tiles, laminate or ultra-modern epoxy.
Above the dining table, make a grand statement with either a large woven basket-style fixture or a Capiz shell chandelier. Add large stone pots with kentia palm, monstera or philodendron next to a wicker sideboard, but keep wall art minimal, with tropical-themed line drawings or a macrame wall hanging.
5. Beachside Bathhouse
Always stay near the water with an outdoor bathhouse. Inset the tub so the rim lies flush with the floor. Add a narrow horizontal floor level window, and you have the best seat in the house for a view of the ocean while you bathe.
You can also install an open shower area and transform the space into a wet room, ideal for removing salty, sandy residue after spending a morning at the beach. This protects your home's floors and carpets from excessive wear and tear.
Your outdoor bathroom needs to be built from rugged materials that can withstand heavy use without succumbing to moisture damage yet still retain your home's coastal aesthetic. Distressed shiplap, sealed and varnished with a polyurethane coating, is a perfect choice.
6. Bold Bedroom Wall Installation
One of the most straightforward rooms to renovate is also at risk of becoming one of the most underwhelming rooms in your home. Although your guest room or bedroom needs to be a space to relax and unwind, that doesn't mean it should be devoid of character.
Why not try an unexpected wall installation rather than choosing classic nautical blue or white? After applying white vertical shiplap to the main wall, attach colorful vintage spools, oars or painted boat parts to the wall as a 3D art installation. This feature can also act as a makeshift headboard for your bed.
If your room is compact, a wall installation may make the space feel cramped; hang your curtains higher and wider than the window frames to create the illusion of a bigger, brighter room.
7. Ship-Shape Living Area
Although you'll likely be spending most of your time outdoors during the summer, the living room is the perfect place to escape the heat and relax after a day spent at the beach. When renovating your living space, focus on durability and visual appeal.
Choose hard-wearing flooring, such as bamboo or luxury vinyl tile, for scratch- and moisture-resistance. Upholster sofas and armchairs in polyester microfiber, as it won't wear or fade with UV exposure and is easy to maintain, unlike natural fibers such as linen or cotton.
Shiplap is an excellent choice for beach house walls; however, why not hop on one of the biggest trends of 2021 and cover your living room walls with wallpaper? Blue and white nautical striped wallpaper can give the illusion of a taller room if the stripes run vertically. You can also choose textured wallpaper in a neutral shade to add some warmth to the space.
Live Your Summer in Style with a Stunning Beach House Makeover
A beach house is a perfect way to escape the stress of daily life and spend time with your loved ones. But to get the most out of the long summer days, you need a bright, airy home with plenty of outdoor access and natural elements. Renovating your beach home can be as simple as switching out the furniture or adding a splash of paint, but the difference it makes to your comfort and enjoyment of the space is priceless. Thanks to Kenneth for consulting on this post.