Extra large corridor
If you've got an oversized corridor or foyer in your homes, then it would make a great home for the
Nelson Bench
. The compact body and simple top frame of this bench will not only provide the perfect sitting space, but you can also pair it up with a number of other accessories such as area rugs, floor lamps, planters, and stools. It will keep these transitional spaces from feeling empty and unwelcoming.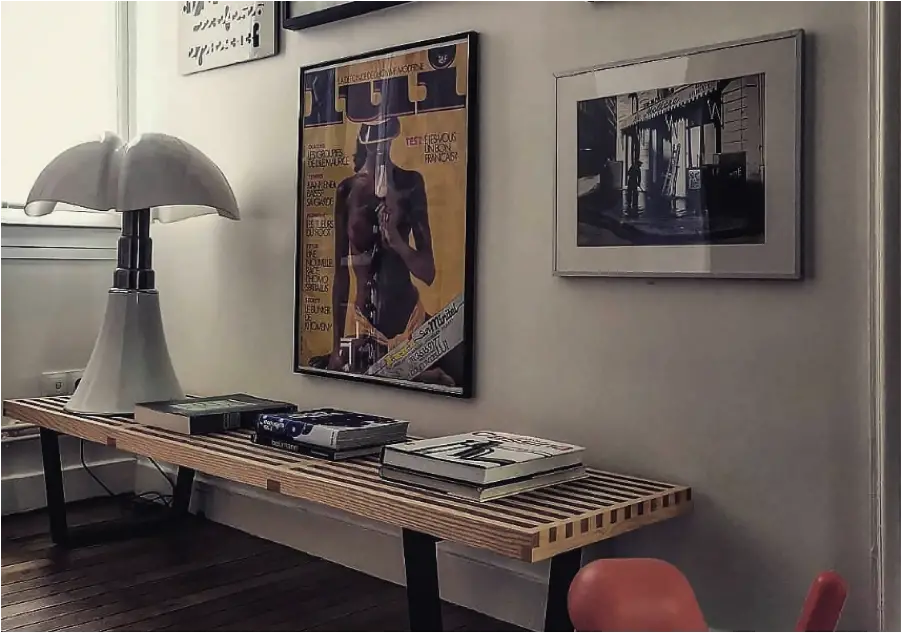 The Nelson Bench can act as a table surface of many kinds. Its smooth top has the type of perforations that don't really hinder anything that you try to place on it – even small decorative accessories. The toy collection featured in this image is one of the best examples of the Nelson Bench placement you'll come across. It's stylish, flexible, and you can easily place it in your kids room. It'll never have to be replaced even as your children grow up and discover more mature tastes.
The highly adaptable anthropometry of the Nelson Bench ensures that it can be used in the capacity of a coffee table. It's an eclectic choice for sure, but when you're working with retro, vintage, and other contemporary themes, it would certainly help you achieve your desired effect. Just take a look at this image as an example – the bench really sets the tone of the entire space.
The Nelson Bench would make an excellent accent piece – especially when it's not surrounded by anything at all. So, if you've got an empty wall in your homes that you need to bring to life, then placing the Nelson Bench in front of it would make it feel very interesting. It's also a very functional accenting choice as you can either place décor or simply sit on the surface yourself.
Porches and terraces call
The Nelson Bench would be an excellent addition to the outdoors. Your porches and terraces can be the hardest places to furnish as it's very challenging to find outdoor furniture that is sturdy and hardwearing. However, the Nelson Bench fits the bill pretty well and you can feature it in these spaces without any worries of the elements taking their toll on its finishes. It would look stylish and provide a functional balance as well.
If you've got a large enough room, leaving the foot of the bed as is can make the space feel very empty. However, if you feel like larger objects such as chaise lounges and daybeds are a little overwhelming, then the Nelson Bench would totally attract you with its stylish simplicity. What's more is that you can even decorate it with your everyday bedroom essentials and other small knick-knacks.
The Nelson Bench could make an excellent addition to your book nook. Instead of going for the typical arm-chair and end-table combo, you can put this bench against the wall and place your to-be-read book pile on top of it along with a statement lamp. Whenever you feel the urge to read, you can simply drag a chair here and your set-up would just be waiting for you!
Console tables may be a timeless concept but that does not mean you can add some ever-needed evolution to this idea. In fact, you can always personalize such things, which is why the Nelson Bench would make a great replacement for a typical console table in your entrances, foyers, living rooms, and dining areas. You can load it up with accessories to make it feel trendier and more attractive.
Luxury dress room addition
If you're lucky enough to have a walk-in closet or even just a small dress room, then don't hesitate to place the Nelson Bench in either of them. It's sleek, simple, and wouldn't take up a lot of space – but at the same time it would provide many functional and aesthetic benefits. It could be where you place your robes, sit down to evaluate your closet, and anything else that you can think of.
Gardens and patios
As established before, the
Nelson Bench
is great for outdoor spaces – yes; even the great outdoors like full-fledged gardens and exposed patios. You can either place them on the periphery of your landscape or pair them up with a picnic table to get the best effect. So, these are some placement ideas you can use for your Nelson Bench. We hope now you can figure out what to do with yours!  Thanks to Eternity Modern for collaborating!