To avoid potential issues with your pool, it is important to ensure that the area around the pool is safe and well-maintained. Get rid of any debris like sticks or fallen leaves within the vicinity of your pool. Regularly check for cracks or other damage to the surface of the decking around your pool. Make sure you fill any cracks with suitable sealants and repair them as necessary.
Here are Essential Pool Maintenance To Dos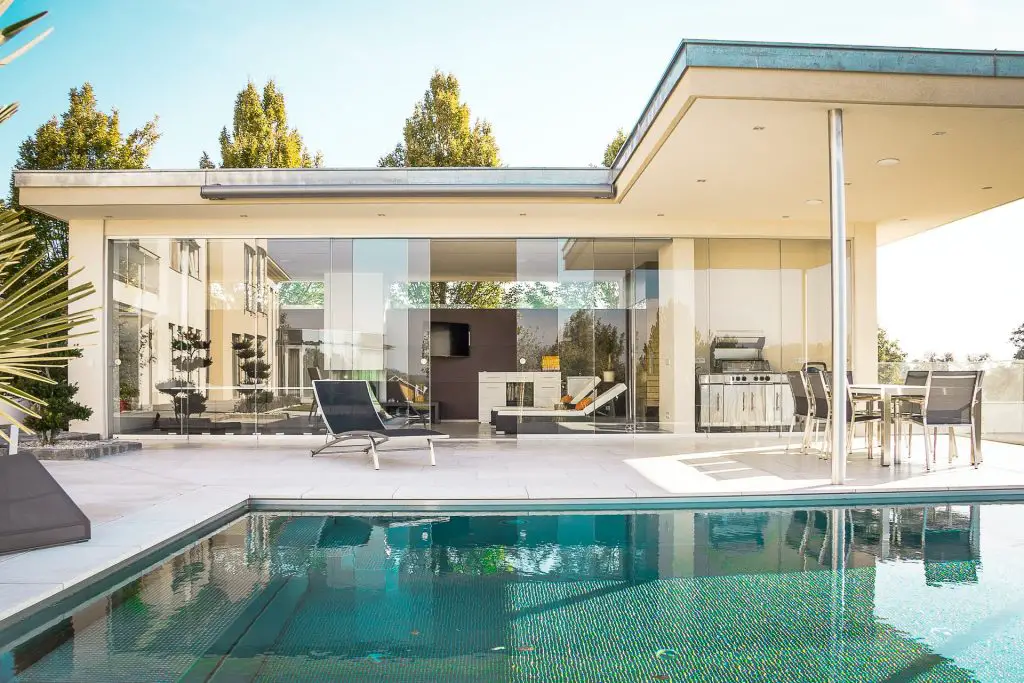 Ensure that your pool's water is regularly tested for chlorine levels, pH balance, alkalinity, and other chemical tests to ensure its safety. Adjust the balance of chemicals in accordance with the manufacturer's instructions. You may also contact a professional when necessary. Clean your pool filters regularly, as dirty filters can cause blockages that reduce the effectiveness of your pool's filtration system. 
Do not forget to check the condition of your pool pump and heater at least once a month. Make sure they are functioning correctly, that all pipes and hoses are in good condition, and that there is no visible damage or leaks. 
Check your pool regularly for signs of algae or other growth, and treat if necessary. Use a brush to manually scrub the walls and steps of your pool if you spot any algae growth, then use an appropriate algaecide to prevent further spread. 
Finally, make sure you cover your pool with a safety cover when it is not in use to prevent accidents and debris from entering the pool. This will also help keep your swimming area clean, so you can enjoy it for longer. 
Check your pool and its environment on a regular basis as this will help you save time and money in the long run. However, while maintaining a pool may seem like an easy task, it can be difficult and time-consuming. From cleaning the filter to checking the chlorine levels, it can be hard to keep up with all the necessary maintenance tasks. This is why it is important to consider subscribing to 3G pool services to help ensure your pool is kept in ideal condition.
Everything You Need to Know About 3g Pool Services 
3G pool services company is a business that provides maintenance and upkeep services for swimming pools. It specializes in keeping the water clean, ensuring proper chemical balance, inspecting equipment, and performing repairs as needed. Generally, it provides regular services to keep your pool running smoothly.
3G pool service company provides a multitude of services to keep your pool clean and in optimal condition. Some essential services that a professional pool service company offers include:
Water testing, balancing, and chemical treatments – To ensure good water quality, regular water testing should be performed. A professional pool repair and maintenance company will test the water chemistry, adjust the pH and alkalinity levels, and apply appropriate chemical treatments to maintain healthy water.
Equipment maintenance – Your pool's pumps, filters, chlorinators, heaters, and other equipment must be properly maintained in order to keep your pool functioning at its best. Part of the company's role is to make sure that your equipment is well maintained.
Pool cleaning – A professional pool service company will provide weekly cleaning services that include vacuuming the bottom, brushing walls and tile, and skimming debris from the surface.
Leak repair – If your pool develops a leak, you can count on a reliable pool service company to quickly identify the source of the problem and provide a solution.
Pool renovation – If your pool is outdated or needs repairs, you can rely on a professional pool service company to handle all aspects of its renovation.
By taking advantage of these services offered, you can be sure your pool will be well-maintained and in optimal condition.
3g Pool Services – "Do I really need it?"
If you have a pool, it is important to consider whether or not you need the services of a professional pool service company like 3G. Knowing the answer to this question can help extend the life of your pool and ensure that it remains in top condition. 
The first thing to assess is how much time and energy you are able to devote to pool maintenance. If spending the time to clean and maintain your pool on a regular basis is feasible for you, then hiring a professional service may not be necessary. However, if you lack the time or know-how to care for your pool efficiently on your own, then it would be beneficial to hire someone who can do it in a timely and correct manner. 
If you choose to hire a professional pool service company, consider their level of experience and reputation in the industry. Ask for references and read customer reviews to get an idea of what kind of job they do. Make sure the company is licensed, and insured, and provides all necessary chemicals needed for maintenance, just like 3G. 
Another factor to take into consideration is the size and design of your pool. If your pool is large enough to need a large-scale cleaning job, then it could be worth hiring a company with experience in this area. 
Hiring a professional pool service company like 3G can be an excellent decision. The company will ensure that your swimming pool is safe and healthy for everyone to enjoy. Here are many benefits of getting 3G pool services: 
Expert knowledge – 3G pool services company has the expertise necessary to identify and resolve potential problems with your swimming pool. The team understands the equipment, including pumps and filters, and can diagnose any issues quickly and efficiently. 
Time-savings – Maintaining a pool takes time, which many people don't have to spare. 3G's professional pool services are equipped with the necessary tools and experience to take care of all the chores required, such as cleaning, balancing pH levels, and more. 
Cost savings – 3G pool services can provide cost savings in the long run by avoiding unnecessary repairs or replacements that could be caused by improper maintenance. They also have access to wholesale prices on parts and supplies which helps keep repair costs down. 
Peace of mind – With 3G, you can rest easy knowing that your swimming pool is being taken care of properly. You won't have to worry about costly mistakes or unpleasant surprises. 
By hiring a qualified and experienced pool service company like 3G, you can be sure that your swimming pool will remain safe and enjoyable for everyone to use. It is an excellent investment in your home and will save you time, money, and energy in the long run. 
Thanks to 3gpoolservices.com for consulting on this post.