Pool remodeling is an excellent way to breathe new life into your old pool. It enables you to restore that pleasant, inviting appeal you initially had. Since an old pool uses outdated equipment, you'll likely use more energy than necessary. Renovating your pool means upgrading to the latest, modern equipment, increasing energy efficiency.
Remodeling gives your pool a new, good-looking finish that lasts longer while adding a unique visual appeal to your pool. It's an excellent way to make your pool more child-friendly and leverage new design trends. Here are five pool remodeling ideas you should consider.
1. Add pool safety features
Your pool won't be the relaxing oasis you want without the proper safety features. However, before adding any of these features, consider getting a professional pool safety inspection, such as Pool Safety Inspection Brisbane, to determine how safe your pool is. This will help you identify the safety gaps to fill and the features you can add.
If you haven't taken anti-slip measures, consider no-slip decking to reduce slipping and falling risks. If you want to restrict access to your pool while keeping it safe whenever you aren't around, pool fencing is the way to go. You can also install pool alarms to alert you of intruders or when a pet or child falls inside, making it a haven for you and your loved ones.
2. Consider pool resurfacing
Pool resurfacing is about readying your pool for a fresh surface coat involving sandblasting, hydro-blasting, and chipping away or bond coating the old surface. After that, apply a polished finish or glass, glass beads, quartz, or exposed pebble finished coat or add plaster.
Since in-ground pools are concrete made with tile, pebble, plaster, or fiberglass-coated surfaces, resurfacing them increases their longevity or boosts the possibility of reaching the maximum life potential. This increases property worth and returns on investment, primarily when selling.
3. Install pool heaters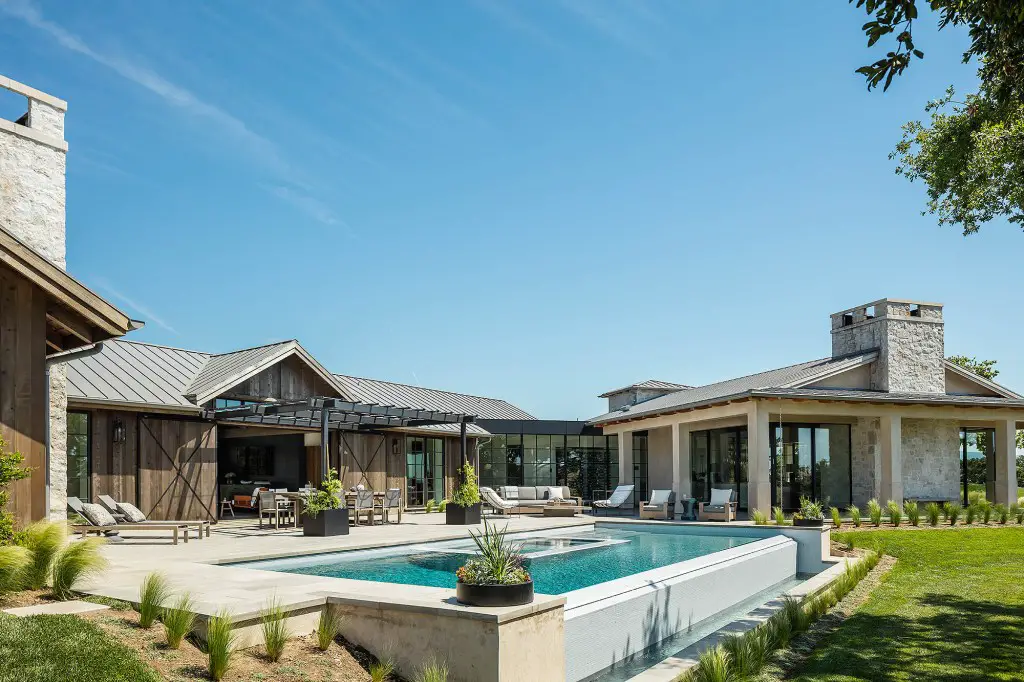 While a pool is a valuable investment that adds your property value, adding heaters increases its value even more. Installing heaters in your pool extends your swim season, giving you more time to enjoy. Pool heating protects against aches and stiffness that cold water can sometimes aggravate. When you increase water temperature with pool heaters, your muscles get soothed, helping you relax. Consider buying gas heaters or energy-efficient heat pumps to reduce energy consumption and utility bills.
4. Add pool pavilions
Pavilions are classic poolside structures that provide flexible space and ample shade. Whether you're looking to add space for an outdoor kitchen or bar, dining, or a place to relax, poolside pavilions are an excellent choice. Considering the endless possibilities for designs and styles, a pool pavilion is a perfect way to make your property stand out while increasing its worth, curb appeal, and resale value.
5. Consider pool fire bowls
A pool fire bowl elevates your outdoor space while adding an element of luxury to your yard's oasis. You can fit them on the column or decking. Fire bowls add warmth and ambiance in the cold winter months. They come in various finishes, such as stone and tile, cast iron, steel, and copper. Whatever your choice, ensure it compliments your patio, landscaping, and other adjacent features.
Endnote
Pool remodels are an excellent way to upgrade your pool's look while increasing your property's worth. Consider these ideas the next time you plan a pool remodel.
Thanks to bookmypoolinspection.com.au for consulting on this post.