One day, you might walk into your kitchen and suddenly realize that it's not as exciting to cook and eat in there anymore. There may not be any specific thing that you can place your finger on, but you'll likely feel that it's time to give your kitchen a little bit of makeover. You definitely need not plunk down a huge budget to spruce up this very important area of your home. There are many ways to upgrade your kitchen without resorting to anything too drastic or costly.
Here are just some ideas to give the look and feel of your kitchen a much-needed lift:
Buy Some New Appliances
It's a good idea to upgrade your kitchen appliances to make cooking and preparing meals a bit more exciting and enjoyable, not to mention quick and convenient. There are a lot of new units that make use of the latest technologies these days. Why not consider an air fryer or a desugared rice cooker? These innovative kitchen appliances are not only nifty, but they will also enable you to prepare healthier meals as well. There are a lot of brands, models, and price points to choose from, especially when you're buying from a reputable online store in the Philippines. Do some window shopping and you'll surely find the one that's right for your budget and household needs.
Give Surfaces a Fresh Coat of Paint
As with any other part of your house, sometimes, all your kitchen might need is a fresh coat of paint on walls, ceiling, and other surfaces such as cabinets and shelves. You may not notice it immediately, but over time, these surfaces become dull and dirty, and this will make your kitchen space a bit dark and dreary. With a new coat of paint on surfaces, the area will definitely become brighter and more inviting. You can stick to the original color scheme of your kitchen and simply freshen it up, or you can be bold and try out a completely new hue.
Clean Out Clutter
You may not notice it as well, but through the years, a lot of stuff accumulates in our kitchens. It may become filled with items that are broken or no longer used, or it may just be simply overcrowded with items like coffee mugs or plastic bags and containers that you have been holding on to. It's best to go over your shelves and cabinets to get rid of these things that you don't actually have use for. Don't forget to check inside your pantry and refrigerator as well to throw away expired food.
Add Art and Accessories
In decorating our home, we often overlook the kitchen in terms of bringing in furnishings and accessories. Decorative items such as vases, lamps, figurines, and other bric-a-brac should definitely not just be relegated to the living room. You can also hang art on your kitchen walls—a Last Supper painting is always a classic touch to any Filipino household, or that iconic pair of giant wooden spoon and fork décor. For today's plantitos and plantitas, some potted plants in the corners of your kitchen would be perfect to add a pop of color to the space. The best thing about all of this is that you don't need to burn a hole in your pocket decorating your kitchen—you could simply move and rearrange some of the stuff already existing elsewhere in your house.
Create Mood Lighting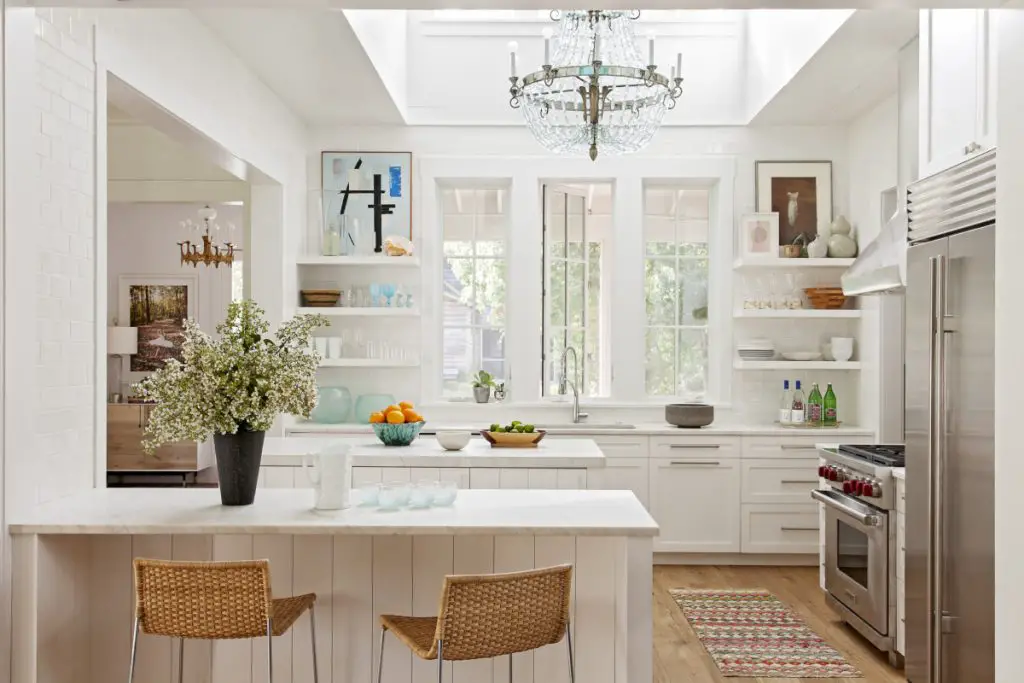 Another home decorating element that not many people think is applicable in the kitchen is lighting. We often just go for plain or functional lighting in this everyday space. However, you might be pleasantly surprised how proper lighting can improve the mood and atmosphere of your kitchen. For starters, swap out bright, white light bulbs with a warmer yellow version. This creates a more inviting look apart from making your complexion look better. You can also try installing LED light strips under your kitchen counter and cabinets to make the space look more sophisticated, especially at night. This can also help with visibility. Additional lighting can also come in the form of candles that can grace your in-kitchen dining table during meals.       
Change the Fixtures and Hardware
You don't need to wait until your faucet is busted before replacing it. There are a lot of inexpensive options for fixtures these days that you can try out to upgrade your kitchen. You can switch from chrome fixtures to a brushed, matte gold type, for instance. These details, though seemingly small, will make a big difference to the look and feel of your kitchen. You can also swap out old kitchen cabinet handles and knobs to match your new fixtures.
The kitchen is the heart of the home indeed, so you ought to give it care and attention. After all, we spend a lot of hours in our day in it together with family and friends. It is a place that holds a lot of good memories, so it's fitting to always keep it looking and functioning well.
Thanks to saversappliances.com.ph for consulting on this post.