Are you tired of seeing the old décor of your house? You can redecorate it yourself without the need for an interior designer and a huge budget. You need to have the desire to change the way your home looks to revamp it into something appealing and beautiful!
Start with your budget – how much can you spend?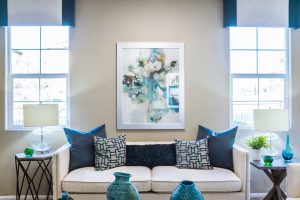 First, you need to fix your budget and see how much you can spend on the redecoration. Most of the things you can do on your own, so hiring a professional is not required. Given below are some of the most affordable ways via which you can redecorate your home and give it a brand -new look-
Paint the walls – This is one of the easiest things to do when you want to redecorate your home. Giving your home new color also lends a fresh vibe to the house. For the glamorous look, you can focus on a feature wall with textures or even wall hangings. Or you can use dual colors for a vibrant and bold effect.


Photo by Vladimir Mokry on Unsplash

Evaluate what you already have – This is the second step to affordable redecorating. Look around the home and assess what you already have. Move bigger items from the room to get more space. Choose some home decorative pieces and items that reflect your taste and style. The next thing is to check whether you need all the items in the room or not. If you do not want them, you can donate them to someone else or dispose of them if broken beyond repair. If the item can be recycled, you can get them converted into something new to use.
Outdoor spaces – If you have a balcony, patio, yard, etc., you can transform them into entertainment hubs for your family with budget outdoor decorating ideas. You can use existing items and add some potted plants and LED lanterns. You can keep the sunlight and other weather elements out with good-quality outdoor blinds. They are available in several materials like vinyl, PVC, and Venetian. You should choose the right blinds that cater to the climatic conditions of your home's location to get the best results.
Lights make a difference – Dress up your home with string lights and lampshades. Make sure the lights you choose enhance the feel and look of your home. If you have lampshades that do not match your house, you can replace them with stylish looking items that complement your mood and home.
Buy new pillows and cushions – You can use new covers for the pillows and cushions on your sofa. You can invest in new pillars and cushions if you need to. Thanks to online websites, you can find several products that are stylish and affordable for your home. Buy them as per your personal preferences and budget.


Photo by Christa Nicholson on Unsplash
Therefore, when it comes to redecorating your home on a budget, you need to follow the outlined tips outlined above. They are simple, and you do not need professional interior designers' services to do the task for you. Visit good sites for getting decorating ideas and transform the appeal of your home with success! Thanks to coversandall.com for consulting.