There are endless options to choose from while you consider vinyl decals for your home window décor or want to add a promotional element to your business displays. Vinyl window decals can now be commonly seen at various places, and these are many costs effective also to be considered by any types of businesses. Further, we will discuss some of the possibilities of vinyl decals in custom advertising.
Usage of vinyl decals
Vinyl lettering: You can custom cut various types of letters out of vinyl. It can be made in any design as various scripts of block lettering etc. These custom cut letters can serve many practical purposes like letting the customers know about a seasonal sale, work hours of the business, the company contact details and URLs, etc.
Graphics
You can use large impact graphics cut out of vinyl as attention grabbers. While used as window decals, these can cover the entire space and can also be used the same in multiple windows to impact. You can see this very popularly at stores and other business spaces. You can print photographic images, logos, and images of drinks and foods, etc., this way. A brand logo can also be made a large graphic and displayed on the windows.
Small graphics
The major advantage of vinyl decals is that even smaller graphics can be cut out on these with perfection. You can create the smallest version of your company's logo, which may not take the entire window space to display. You can also stick these on to your car window to make your branding mobile.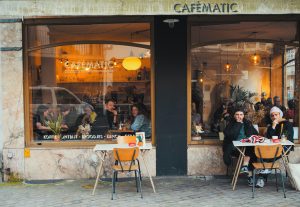 Benefits of using window graphics
Using custom cut vinyl decals for window graphics can be of various users to businesses. They can easily attract customers to your company and also share valuable information with them in an instant. With custom window decals, you can also build your brand identity. Some other significant benefits are
Flexibility: Vinyl decals are much flexible, and you can stick them on easily to the windows. These are also not difficult to reposition nor remove later.
Built-in advertising: The window graphics are also ideal for making others know that your business exists and functioning. Also, graphics can help the viewers better understand your business operations and what your work hours, contact details, and other critical business information are.
Timely info: Window graphics are effectively used as temporary signage too. These decals will let you display the latest offers and special sales etc. A store or a gym can use custom graphics with vinyl decals to announce their operating hours or usage of new exercise equipment.
More privacy: Even though window graphics are usually used to share information, they can serve many practical purposes. For example, you can use vinyl graphics to act as a privacy barrier on the windows on the workspace's interior.
Whatever your purpose is, it is ideal for getting the best provider who can guarantee you the best quality and durability in custom-made vinyl decals. Thanks to bannerbuzz.com for consulting.