One of the most important parts of your remodel is going to be choosing a kitchen color scheme. Keep reading to find a combination that will work for you.
If the walls in your kitchen are getting a little dingy, it might be time to freshen things up. It's no secret that the kitchen is the heart and soul of the home. It's the place where you cook, eat, and gather with family and friends for conversation.
Your kids do their homework at the kitchen table or island. You prepare meals in the kitchen with your spouse or significant other. You play cards and board games around the table just for fun.
Since you spend so much time in this space, you want the kitchen color scheme to be pleasant and inspiring. Not sure how to pull together a color scheme that works for your kitchen? We can help.
In this post, you'll discover how to create the perfect kitchen color scheme for you and your family and guests to enjoy. Without further delay, let's play with color!
Your Dream Kitchen Color Scheme Awaits You
Follow these tips to create your dream kitchen color scheme. It will be a space you'll love to wake up to.
1. Explore Color Palettes
The first thing you need to do is explore color palettes. You may have an idea of the colors you have in mind or may need a little help choosing something new. Flip through some magazines like this article for green kitchens in Elle Decor.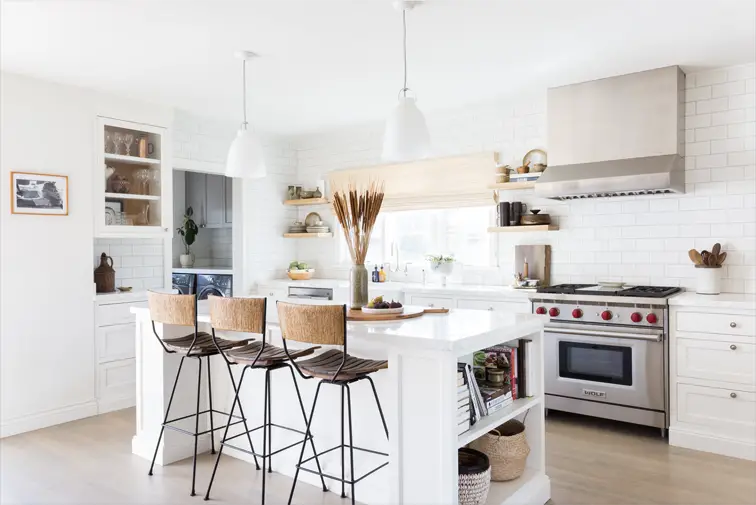 Green not the color you had in mind? You can also do a Google image search for kitchen color palettes. Just go to Google and put in the term "kitchen color palettes," click on the images tab and see what you come up with.
Another idea is to visit a home improvement or paint store in person. Take home some paint chips and hold them up to your walls.
Take notice of how they look in different natural and artificial lighting: early morning, mid-afternoon, and evenings. This will help you see if your colors are too dark or light for your preferences.
2. Pick Colors That Move You
Your kitchen should inspire you just by being in it. You may see color trends on paint websites, but make sure they suit your style before buying paint.
Trends come and go. They'll change next year. So make sure you choose colors you can live with for a long time or the next time you're planning to repaint.
3. Think of the Big Picture
Your kitchen color scheme goes beyond the color of your walls. You want everything to coordinate. This includes your countertops, cabinets, backsplash, and flooring color choices.
Not planning to repaint or replace your kitchen cabinets or flooring? It's key to coordinate the look with the colors you already have in your kitchen. A great way to do this: take a photo and view everything in a design software program such as ProKitchen Software.
This will help you see all your kitchen elements together. It will also make it easier to change your color scheme or try a new one.
4. How to Choose Your Cabinet Color
If you've decided to repaint your kitchen cabinets or get new ones, you may want to begin your color scheme by considering the cabinets. Your kitchen cabinets cover a large portion of your kitchen space.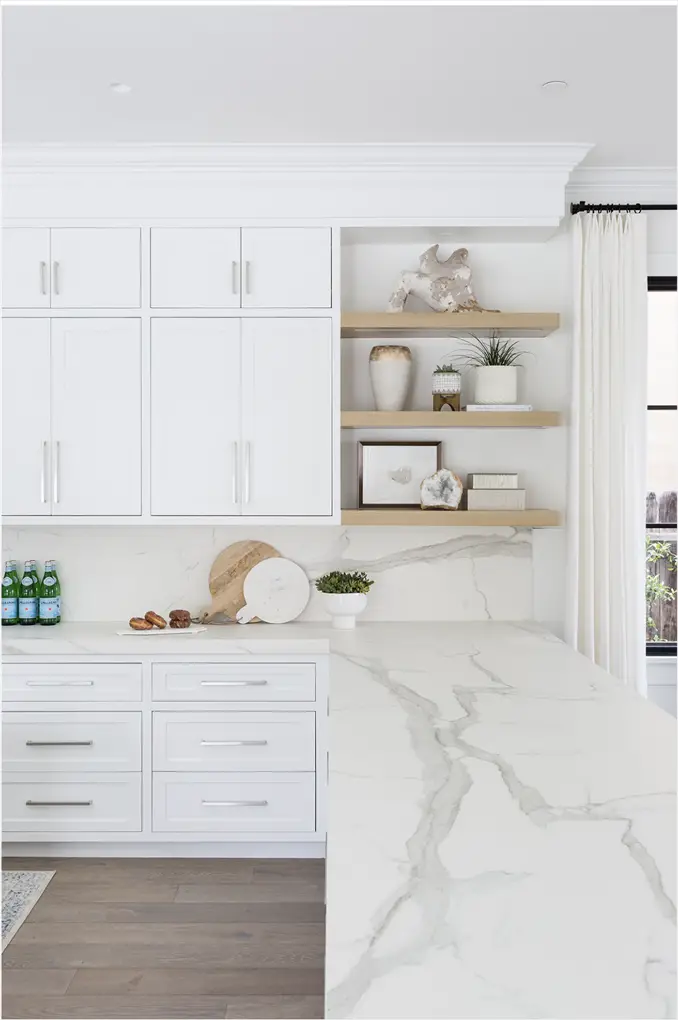 They'll be the point of focus that your eye goes to in the room. Cabinets and other elements in your kitchen carry undertones. An example could be that the color gray can display either a green, violet, or blue undertone.
Even when you're going with wooden cabinets, the wood will display an undertone such as yellow or red. Look at the undertones in your cabinets, floors, and countertops to make the appropriate kitchen color scheme choice.
When choosing a color scheme, decide if you want warm, cool, neutral, or natural colors. Warm colors are reds and golds. Cool colors often contain blue or purple undertones. Naturals include greens and browns. Neutrals include whites, grays, or beiges.
When working with the color white, know that white shows dirt and needs to be cleaned more often. If you're not planning on daily upkeep, choose a color that's not white.
5. Working with Countertops
Next to your kitchen cabinets, your countertops take up a lot of real estate in the kitchen. A more flexible choice for your countertops is choosing a neutral color.
Neutral countertops will provide flexibility for you to change your color scheme in the future. If you choose a color that isn't neutral, you'll be limited when you change your mind down the road.
It's much easier to splash another color of paint on the wall than it is to replace all your countertops. Choosing a neutral color draws attention to your backsplash. It makes the colors of your backsplash pop and won't compete with it.
6. The Sky's the Limit with Backsplash Color
Your backsplash is the place in the kitchen to get colorful and creative. Backsplashes cover a small portion of the kitchen, compared to walls, cabinets, and countertops.
They typically cover the areas between your countertop and cabinets. If you're looking for something funky or a color that stands out, your backsplash is the area where you can have some fun.
Against a neutral background, you can put up a unique backsplash such as a shiny, colorful glass backsplash.
Or decorate the space with white or colored subway tiles for a contemporary look. Match the color with your wall color or go all out and do something wild and different.
7. Coordinate Your Kitchen Color Scheme With the Rest of Your Home
To coordinate the look with the other rooms in your home, choose a similar color palette. Here's a brief lesson on color theory.
Choose colors that blend with the colors in adjoining or nearby rooms. Especially if you have an open concept living space between your kitchen and living room. You want your colors to flow naturally. Interior designers recommend sticking to three colors in a color scheme. At most, five.
Kitchen Color Scheme Rewind
With thoughtful planning, your kitchen color scheme can look fabulous. Why not make it the room you look forward to coming home to?
Looking for more tips on making your home beautiful? Explore more exciting content on our blog.