If there's one thing that many homeowners can agree on, it's that their kitchen simply lacks sufficient storage space. Even a small kitchen might seem adequate at first, but as the years pass and families grow, a once "cozy" kitchen can become virtually unusable. Kitchen remodeling projects can certainly help, but reorganizing and properly using the storage space in your kitchen can also help your kitchen be usable once more. This article will provide some guidance on how to organize your kitchen without breaking the bank.   
Take Advantage of Open Wall Space
When homeowners try to create additional storage space in their kitchen, many fail to make use of a consistently ignored area: the walls. Kitchen walls are a great place for décor items, your family's weekly planner, or your calendar, but it might also be the salvation to your tiny kitchen woes. Shelves can be installed to store the bulky appliances that are currently taking up valuable real estate in your cabinets, but you can also consider something less customary like a pegboard for hangable items like cooking utensils and cutting boards. Not only will this make it incredibly easy to locate the items you're looking for, but it'll also allow you to more efficiently use the space within your kitchen cabinets since you no longer have to contend with placing oversized items in drawers or cupboards.
In some cases, your wall might be perfect for a fold-down table. These are easily mounted, come in a large variety of styles, and take up virtually no room when not in use. In cramped quarters, a fold-down table can be a game-changer.
Maximize The Ceiling Space in Your Kitchen
Many people love the storage space located above their cabinets; this space is perfect for the items you don't have to access regularly like a crockpot or a cake stand. If you have particularly high ceilings, you might consider adding a shelf above your cabinets to double the elevated storage space. Again, this space isn't ideal for the items that you'll need daily, but it can help to reduce the unnecessary clutter of items in more regularly accessed locations.
Add Expandable Shelves Inside Your Kitchen Cabinets
There's nothing more frustrating than opening up a cupboard and seeing how truly under-used the shelf space is. Items that don't lend themselves to stacking can exacerbate a homeowner's frustration. Fortunately, there is a quick and easy fix that you can do to essentially double a shelf's storage capacity. Expandable shelving is incredibly affordable and is available in many different sizes, allowing you to turn a cluttered mess or rarely-used cabinet into a beacon of organization in your kitchen.
Use Your Oven for Storage Space
Have you ever stopped to wonder how often your oven is actually used in a given day? For many people, the oven sits empty for most of the day (if not for the entire day); but in all honesty, there should be something in the oven 24/7. We're certainly not saying you need to be cooking all day every day, but if you aren't cooking a roast or baking a pie, you should be storing things like pizza stones, cooking sheets, and frying pans in the empty space in your oven. Granted, you might think it tedious to remove all the items when the oven is needed to prepare a meal, but in reality, you'll be handling these items far less if they were cluttering up a more high-traffic area of your kitchen. 
Use Your Kitchen Ceiling to Keep Cabinets Clutter-Free
Many will agree that pots and pans are the worst in terms of keeping your kitchen looking and feeling organized. Pots nest within each other well enough, but they can be heavy and awkward to pull out of a cabinet, particularly when you need the one located in the bottom of the stack. If you've installed a pot rack on your ceiling, you'd never again be faced with this problem. Pot racks can accommodate pots and pans of various sizes, are easy to reorganize as you add pots and strainers to your collection or retire unneeded ones. Pots racks also look great from a style perspective, so if you decide to install one in your kitchen, you're effectively killing two birds with one stone.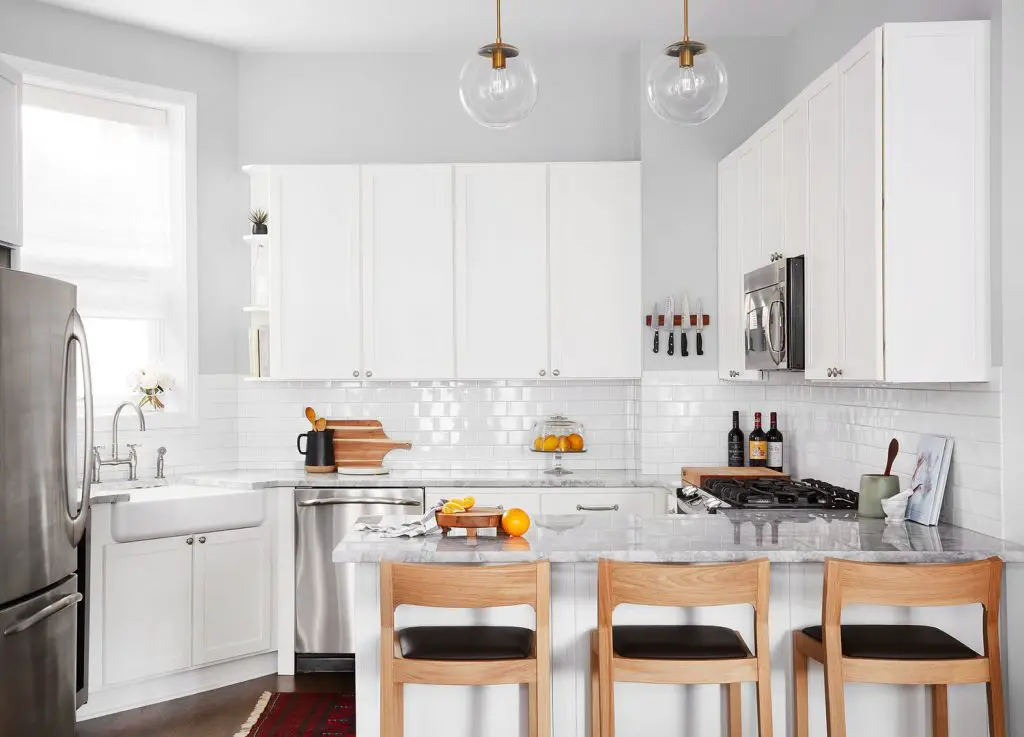 Pull-Out Pantries Should Be Part of Your Kitchen Redesign
Pantries can be an organizational disaster, even in a big kitchen. Pantries generally contain small packages, jars of various sizes and a myriad of dry goods. Just about every homeowner will tell you that they've lamented having to search for a single ingredient among dozens to complete a recipe, only to discover that they are in fact missing it. If this sounds like a familiar problem, pull out pantries should be a consideration for your next kitchen remodel project. They're compact, can offer access to the contents from two sides (depending on the design) and can be placed in a user-friendly location.
If there's one thing important enough to take away from this article is that you needn't feel bound by your current kitchen's lack of storage space. Whether you action some of the simple solutions listed above or decide on a complete kitchen remodel, there are always ways to get more storage space out of your kitchen. Thanks to Build My Kitchen for collaborating!