Wall sconces are one of the most popular and versatile home lighting options. They provide ambient lighting and add an interesting decorative element to any room.
With so many styles, designs, and types of luxury wall sconces and more subtle ones, it's often hard to pick one that fits your home aesthetic. This article will showcase 4 tips to consider when you are planning to have sconces in your space. Read on to find out.
1. The Purpose of the Sconces
When picking your preferred wall sconces, it's best to consider their purpose in the room. Wall sconces come in all shapes and sizes. Here are the three main purposes that scones can have in your home:
Accent Lighting
Accent sconces are designed to highlight a specific area or an object in the room, like artwork or architectural features. These sconces have a focused, narrow beam of light and are often adjustable to direct the light where you need it the most.
Ambient Lighting
Ambient sconces can provide a warm and inviting atmosphere in any room. These sconces often have diffused; the soft light and are usually positioned to cast upward or downward light.
 
Tsk Lighting
Task sconces provide focused lighting when you're doing specific tasks. For example, they are excellent sources of light when you're reading or applying makeup. These sconces often have adjustable arms or shades to direct the light where you need it.
2. Style and Design of the Sconces
Wall sconces come in various styles and designs to fit any home décor. Before you select a sconce you think is the right one for you, consider the style and aesthetic of the room to ensure the sconce complements the space. Here are some of the sconce styles you can choose for your home:
Traditional Sconces
Traditional sconces have intricate details and classic finishes like brass or bronze. These sconces work well in both traditional and formal spaces. They can add a touch of elegance and sophistication to the room, so they're worth considering.
Contemporary Sconces
Contemporary sconces have simple, clean lines and minimalist designs. They often use materials like chrome, glass, or stainless steel, so they work well in modern and minimalist spaces.
Art Deco Sconces
Art Deco sconces feature elongated geometric shapes and patterns with bold colors. They work well in spaces with a vintage or retro feel and can add color and class to the room.
3. Size and Placement of the Sconces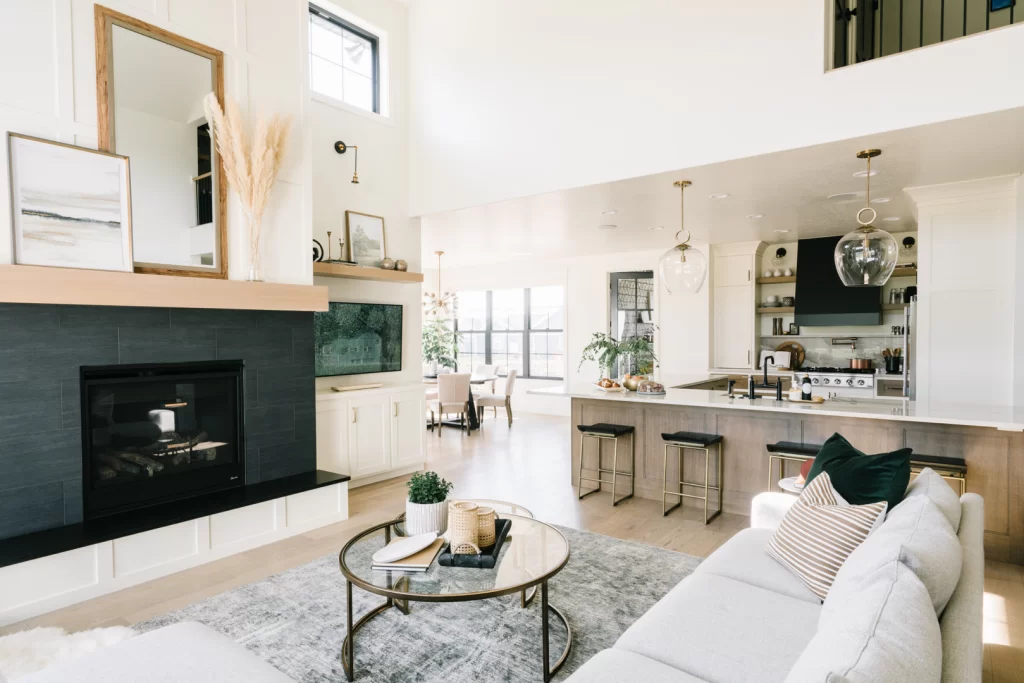 There are things to consider when selecting wall sconces. It's vital to consider their size and placement to ensure they fit the room's dimensions. Fitting sizes will provide adequate lighting for the room. Here are three aspects to consider for their placement:
1) Size
Size matters in picking the perfect sconces for your room. Make sure that the size of your sconce fits the size of the room. Large sconces may not be a good choice for small places. At the same time, small ones will not be noticed enough in a large room. It's always better to choose a sconce that's roughly one-third to one-fourth the size of the wall it's mounted on.
2) Height
Consider the height at which you want to install the sconces. Generally, they should be placed at eye level or slightly above to direct the light where needed. And in dining rooms, sconces should be installed at least 6 feet above the floor to avoid casting shadows on people's faces.
3) Spacing
Consider the spacing between the sconces. The distance between them will depend on the room's dimensions and your desired effect. Sconces should be spaced roughly 8 to 10 feet apart for ambient lighting. And for task lighting, they should be placed closer together, roughly 4 to 6 feet apart.
4. The Quality and Durability of the Sconces
Always consider the quality of your wall sconces. This will ensure that you'll get your money's worth and last for a long time. Here are aspects you should consider when looking for quality sconces:
Materials
Compared to cheap materials of plastic or thin metal, Sconces made with solid brass, bronze, or stainless steel are always more durable. Always know what type of material they are made of.
Finish
A quality finish is important for the durability of the sconces. A powder-coated and hand-applied finish has long-lasting quality. With these types of finish, fading, peeling, and chipping will less likely happen.
Wiring
Hardwired wall sconces are better preferred. This is because they are more securely placed and less likely to become loose over time.
Final Thoughts
In summary, wall sconces are a stylish and versatile lighting option for any room. They can provide illumination but also add timeless style to any room.
Do not rush when trying to select sconces. Consider the look and feel of the intended room but provide the right amount of lighting.
Remember to follow these four tips. You can select wall sconces that will meet your lighting needs and add a touch of elegance to your home.
Thanks to rockymountainhardware.com for consulting on this post.