Kitchens really are the heart of every home, providing the perfect entertainment space for your guests if you have the room. Technology advances have given us an entirely different way of life, introducing the kitchen island to gather around, contemporary kitchen designs to create a seamless, minimalistic design in the home, setting the tone throughout your entire living space.
Homeowners are preferring the clean, minimalist space, free from clutter which provides a sense of serenity throughout your home, tidy home, tidy mind. Our lives are fast paced and chaotic by today's standards therefore we need to reflect a calm environment in the home we live in.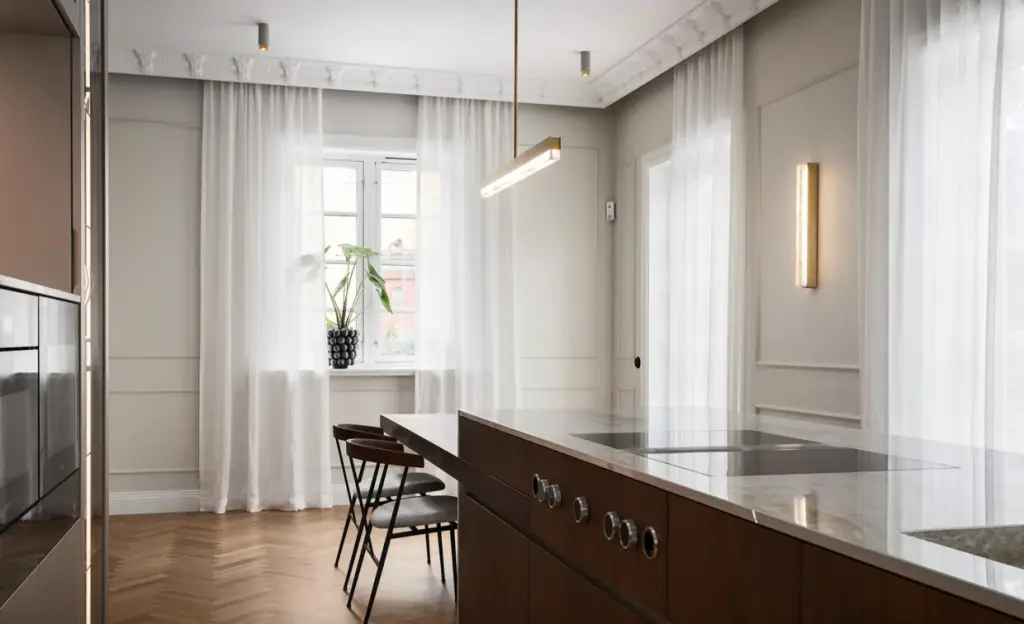 Modern lines are taking the kitchen design trends of 2021 by a storm, looking at clean, sleek finishes, featuring statement metal handles, or going handleless. A sleek cabinet shape provides more availability for storage and shelving space, maxing out abilities to store as much as possible behind the cupboard doors. Designing a kitchen with storage in mind is the only way to achieve a sleek, minimalist living design.
Looking into textures, colours, and complementing furnishings for the rest of the room is key to creating character and definition in your kitchen space. You can quite easily create a flat, stark design by overdoing the minimalist approach. Here you can introduce statement lighting via drop pendants or chandeliers above your kitchen island or dining table. This design is perfect for open plan living which is increasing with every home renovation project across the globe, creating a sense of being and togetherness, whilst having a beautiful entertainment space for you, the family, and your guests.
Kitchen cabinets in neutral, white, or grey are beautiful and classic, but we are now venturing into a bolder, statement trend of darker colours. Dark grey and navy blue are topping the season's trends. The timeless shades are a new favourite for kitchen cabinets this year which is strikingly beautiful against a crisp white marble worktop.
Darker tones in a kitchen are incredibly popular, creating a more sophisticated space with a bold choice of colour. Darker means elegance, which creates a luxurious space within the home, setting the tone for the rest of your interior décor. Interior design isn't about one statement room or focal piece of furniture, it's about creating rooms that flow between each other beautifully, without overpowering the place.  
Integrating your kitchen appliances is the obvious way to additionally create a seamless, minimalistic vibe within your kitchen. There is nothing appealing about visibly seeing your washing machine and dishwasher, hiding it away is the ultimate design finesse. If you are creating a stylish and sophisticated space it would be a shame to spoil the room with an unsightly appliance, you want to give the impression of a stylish home without seeing what you use to clean your dishes.
Thanks to busterandpunch.com for consulting on this post.