Everyone wants to live in a wonderfully designed bedroom because it is the part of the house where we spend most of our time. Home decoration seems exciting, however, finding the most appropriate décor stuff can prove tough.
Apart from it, the size of the house also impacts a lot. The real test of creativity begins when you have to design a small bedroom. Are you excited to learn some bedroom décor tips that work well for all-sized rooms? So, let's explore:
Add Architectural Elements to the Ceiling
What do you want to see when you lie in bed? A boring ceiling does not create a lavish factor so it can prove great if you add some architectural elements to it. However, do not go for shiny stuff as subtle colors look good and create harmony with the other four walls of the room.
There are other options also available like wallpaper, paint, and stencil. People usually do not ponder the décor of the fifth wall in the room but if you decorate it well, you can definitely get an amazing impact.
Choose a Simple Yet Comfortable Bed
A bed is the center of attraction of any bedroom and it is important to choose it wisely. The first purpose of a bed is to get ultimate comfort and make sure to get accurate measurements of the floor and wall where you need to place the bed.
The soft and cozy finish of the beds complements well the overall décor of the room. Bed with bright color never looks good so try to choose a soft shade. You can find the right adjustable beds online but make sure to choose a reliable company only.
Make Plenty of Storage Space in the Room
Decluttering is crucial because a room can never look amazing if it is cluttered. Plenty of storage space is necessary for keeping all belongings in an organized way. You can make cabinets, wardrobes, and small drawers in the room but make sure to utilize the space accurately. Customized wardrobes are good to choose from because they shouldn't look odd in the room.
Don't Bring Over-Sized Furniture
A Spacious touch is mandatory in the bedroom and bringing oversized furniture can ruin the appeal. Try to keep things simple and choose the most-needed items only. Unnecessary furniture can create a messy touch and it is also a wastage of money.
So, whenever you go to buy some furniture items for the room, keep the size of the room in your mind and shop accordingly. Small bedside tables, a simple couch, a coffee chair, and a bookshelf are vital furniture items in a room.
A Study Corner is a Must
Do you love reading books? A study corner in the room can add a wow factor to the place. A revolving chair with a sleek table is good enough for that corner. You can make a few small shelves above that table for keeping stationery stuff.
A stylish lamp is vital because, without it, every study table is incomplete. You can write, read, or do other chores at that table and it can prove even great if there is a window near the study corner. Writers love such spots.
Choose Some Stylish Curtains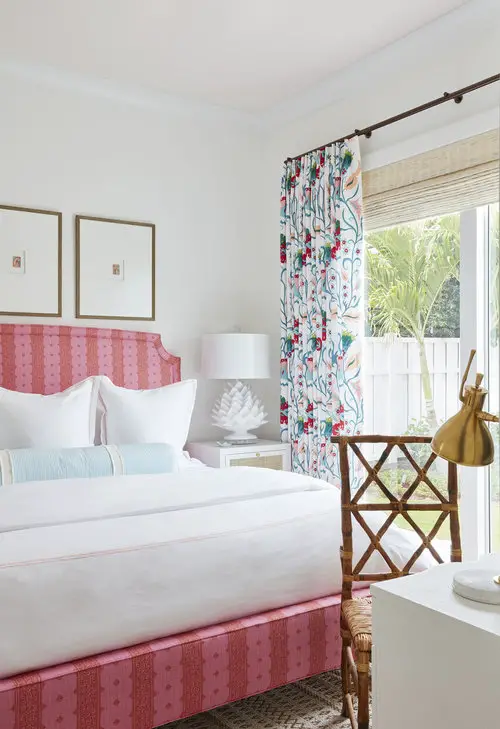 Blinds do not look good in bedrooms so you should choose some heavy yet stylish curtains that can enhance the overall ambiance of the room. The color of curtains can be contrasting or similar to the walls depending on your choice.
However, make sure to choose a fabric that proves easy to dry clean. When sunlight passes through these curtains, the fabric should reveal a refined finish. The luxurious appeal of any room is incomplete without stylish curtains.
Choose Paint Colors as per Weather
Wintertime is good for bright or dark shades but if it is summer, you should go for soft paint colors. The best way of styling up a bedroom is to paint three walls with subtle shades and the fourth wall with a dark shade.
This will create a spacious touch in the room and if you slightly remove the curtains, sun rays highlight the overall ambiance so well that you'll love spending time in your room. Dark walls are not good for small bedrooms so make sure that you do the selection wisely.
A Rug is Important in a Bedroom
Any bedroom is incomplete with a rug. The accurate placement of the rug is right after the bed. You should prefer a rug that contrasts the floor. For instance, if the floor is of grey color, a navy blue rug can look really good.
Apart from it, you can enhance the overall ambiance of the room with some stylish lights. Simple yet lavish globes are mandatory in a room. Wall hanging and ceiling globes are mandatory in the bedroom.
Advanced Flooring is Mandatory
A bedroom should reveal an eye-catchy touch and for this purpose, you can do the flooring of the latest materials. However, we recommend you to not choose vinyl because it doesn't sustain temperature or moisture. You cannot wash vinyl flooring unless it is of top quality.
So, the best option is to choose marble or tiles. Wooden flooring is also not suggested for bedrooms especially if you have kids at home because wood does not resist scratches. Stylish tiles look amazing as they are sturdy and serve the purpose for a long time.
Indoor Plants Look Good
The natural green effect in any place looks amazing and enhances the ambiance. You can choose some stylish indoor plants that can be placed near the window. However, you may need to pay special attention to the care of such plants. Rubber plants and money trees are good to keep in a bedroom because they grow well and look stylish.
Buy Small Décor Pieces
You can create a lavish touch in the room by bringing small décor pieces for dressing tables, bookshelves, and side tables. They can complement the place and you'll love the ambiance.
Thanks to puffy.com for consulting on this post.