via
J. Patryce Design
Photography:
Christian Harder
According to various online sources, the average costs of buying your first home in Perth can depend on the neighborhood you invest in, for instance, if you're looking to purchase a house or an apartment you can pay anything from $140,000 to $500,000, further information about how much some places in specific areas costs can be looked up
online
. Our task in this article is to help you out in the event you looking to make improvements to various parts in your home such as the bathroom, bedrooms, and family rooms or whilst getting it built, but without breaking the bank. We will cover the majority of the main aspects of the structure from the walls, to the floor and then some, so you can decide which ones you would like to work on.
The Walls.
Wallpaper has been around for decades. Since its first invention in China during the 12
th
century, where they pasted rice paper onto walls to adorn it in the Qin Dynasty, to the now lavish, "stick and paste on" decorative paper that most of the celebrity and popular artist houses have, this is our first option for you. This is possibly the quickest thing you can do to any wall to make it stand out from the crowd and give it some character. Not only will it look good but it can also be used to hide any blemishes or inconsistencies on any wall. Choose to stick a silver one on the front entrance to reflect light, and give a warm welcome to guests both at the same time.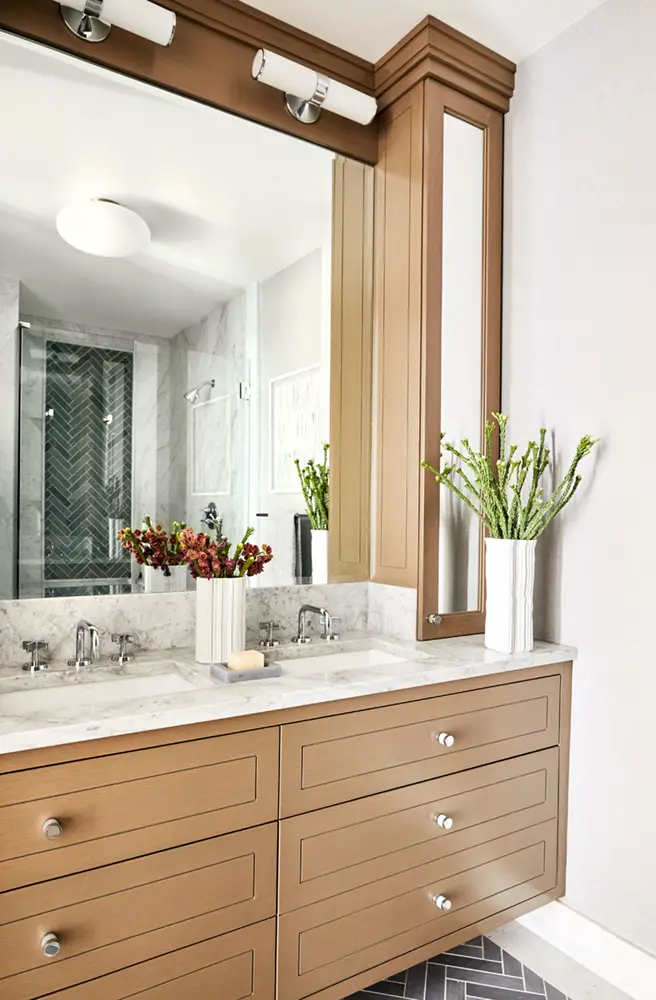 via
J. Patryce Design
Photography:
Christian Harder
The other advantage of this inexpensive item is, you can change it every couple of years to something new and different, and it will still stay fresh. Sometimes we can love expensive things, and if you have been trapped by this and adore one that is over your budget, buy a piece big enough for one side of the room and have it as an accentuate wall piece, which is what the 21
st
-century interior decorators recommend to everyone. This will cost you a mere $100 for the paste, roller brush, and a piece of a 10-meter roll of wallpaper.
The Paint.
Of course, this is something one cannot miss to advise on when sprucing up your home no matter how big or small. With the right tones of colors, one can enhance any living space from a Schick cottage to a luxurious patio. Next to using wallpaper, paint is the next best and easiest thing to apply to walls to change them and freshen them up, without any hassles and in the cheapest manner. If you don't like the tiles in the bathroom, instead of having them replaced, paint them. One can easily prepare them by running a piece of sandpaper over them to remove any nooks and crannies and smoothen it. Then apply a hue of satin or glass color such as gold or black or perhaps make a homemade stencil using a lace motif, which you can easily make yourself at home using cardboard or plastic material, which you can use on walls, tiles, furniture, just about anything to add some decorative qualities to it
https://salvagedinspirations.com/how-to-make-a-stencil-no-costly-gadgets-required/
Another idea to add here is, while you're working in the bathroom, you can make improvements to the cabinets as well. installing new ones will be expensive, so, we suggest stripping out the old and re-doing it. Make it fun, and add different hues of paint to them in contrast to the tiles or flooring you choose. You can also use the floor tiles to break them and add a motif element to the cabinets and countertops.
via
J. Patryce Design
Photography:
Christian Harder
Again, this will also cost you about $150 for all the supplies, like the sandpaper, and moisture resistant bathroom paint, a few tiles for the floor and cabinets, and even the stencil tools which can be bought from an arts and crafts store.
The Floors
. A very popular DIY project in Perth is to uproot any carpets and add wooden flooring to them. Hiring a professional who deals in
affordable bathroom renovations
is one option, as they can do something as delicate as this with 100% confidence, and this would be our advice seeing as it may take up a large part of the home. However, if you do want to make a day out of it, we suggest asking friends and family to help you out. You can easily remove any old or outdated vinyl or carpet covering in your house, starting with the family room and making your way to the bedrooms. Asbestos is something that old houses carpets were included and is bad for health if kept in the house for a long tie. Removing the carpeting and leaving a barren wooden floor is one of the best things you can do for yourself, and it doesn't cost much. Once you have gotten rid of the carpet, sanding the floor would be the next step, you could be lucky enough to find the original floorboards underneath, which you can clean up and make it look brand new. For a more natural-looking floor, sand off the top layer and enhance the grain of sand hues with a coat of clear varnish. Make sure all the nails on the floorboards are flush, and if needed hammer them in properly.
via
J. Patryce Design
Photography:
Christian Harder
Another option one can implement, if your remove any existing covering on the floor and reveal a concrete floor, this too can add some depth and character to the home. Once it is cleaned nicely and brushed to reveal the natural grey tones of the material, it can bring out space very nicely, and is a lot of people's choice for home flooring as it is easy to take care of, clean, and is health-friendly. You do not need to polish it, simply get a grinder, and run it over the surface a few times, once a year. This could cost somewhere between $1765 to $200, depending on how much work needs to be done and the area to cover, including the supplies such as the sandpaper, varnish, nails if needed, and tools to remove the carpeting. Don't forget to get a dust mask, safety glasses, overalls, and gloves for everyone helping. Thanks to Perth Premier Home Improvements for collaborating! Always remember safety first.