Whether or not you are aware of the aspects that drive changes in design, there is always a number of home interior decorating styles that you will find interesting. Your aesthetic taste is not confined to a single style and can be customized, mixed and matched as you like. The most popular types of designs discussed below will give you an idea of what your preferred style could be.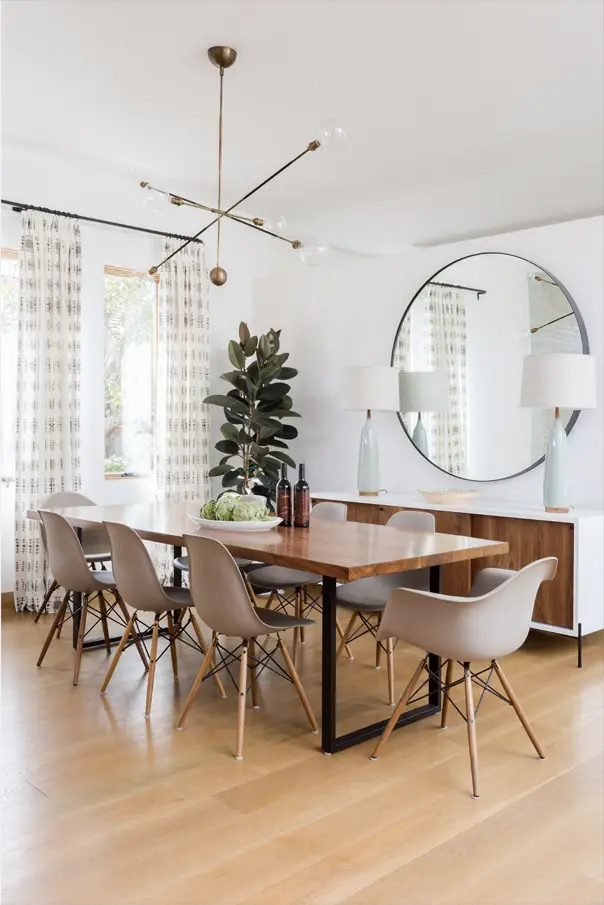 Mid-Century Modern
This interior design concept is highly popular due to the myriad of factors that it incorporates. The best way to describe this style is 'sleek' and 'clean'. Debra Morgan, a designer who cooperates with the company where you can order a perfect essay says that it is characterized by functionality, precision and meticulous décor where everything is in order and very minimally ornate. The décor is deliberate with choosing from differing materials and periods in time to create a cozy feel of modern classical interiors. This design is most popular for homes as opposed to the crisp modern aesthetic that tends to be more office like. This style embraces all colours but it is important that the colours chosen remain in the same palette to maintain the sleek and clean feel.
Industrial
The industrial interior design is characterized by large lofts with oversized metal windows, raw unfinished wood and exposed bricks. However, this is not easily applicable in urban areas so it has adaptable dimensions. Industrial style homes capitalize on neutrality of colour hues and material but different textures. For example, this style can capitalize on using black metal but different shades to create different metallic silhouettes. This style relies heavily on lighting and furniture to pull it together. It is best adapted in open plan homes that incorporate industrial fixtures such as silver railings and the like. The industrial style is also minimal on decoration because the exposed wood, brick or metal serves as the statement piece (s) of the interior.
Scandinavian
Photo by Amy Bartlam Design by Courtney Nye Design.
Deriving its name from the three Kingdoms of Scandinavia, this style's main purpose is tied to the mood. The Scandinavian countries receive very little sunlight in the year and they devised ways of making their homes feel comfortable and inviting. This takes a contemporary approach of interior design that is largely achieved with lighting and reflective surfaces, different textures of materials and incorporating as much natural colour as possible. The style is generally clean with straight line furniture and crisp painted walls. Natural colour is achieved from plants and flowers. These are not an option. Floors are kept bare or with strategically placed rags. Décor is encouraged but has to tie in with the clean lines' aesthetic for cohesion.
Minimalist
This is a timeless aesthetic rooted on the noble idea of preserving the environment. The style is largely characterized by functionality and need basis for items. This interior design style is clean, free of clutter and aims at creating 'more space'. This can either be achieved by large rooms or having only one piece of furniture in a room and large windows for maximum light. Shapes are strictly kept in simple geometrical style with little form. For example, Sarah Parsons, a home design and décor professional from essay service suggests that spiral is not acceptable in minimalism. Artsy décor and ornamentation are not a choice because it clutters the eye. The colour schemes are clean and never more than two at a time preferably grounded colours such as white, grey, black and their variant shades. Even for nature lovers, plants are also not crowded in this style. One or two is acceptable. Anything more takes away from the theme.
Bohemian
This is the modern home interior style that defines the socially unconventional. It is characterized by Avant-garde accessories and art. This style is colourful and bursting with whimsical character because an individual can style it as they possibly can. There are few rules to follow for this one. However, a more authentic Bohemian style is styling pieces that are closer to the floor; low sofas, tables and cushions or poufs for seats. Rags and throws are a major aspect of this style. It is not unusual for multiple colours, patterns and textures to be combined to achieve a playful and relaxed feel. For this style the decorating style is bold and bright to make a statement. It is rare that one Bohemian style will be similar to another because of the uniqueness of individuals and the seeking of different traditional things for the homes. Plants are a big part of this style with an inclination towards hanging plants for the effect of unconventional. A bohemian styled home is relaxing and engaging at the same time balancing the two well to keep a free spirit happy.
Interior design styles have become part and parcel of our daily lives and the simplest form of self –expression. A growing number of people are getting involved in how their homes are styled because they are in tune with their aesthetic preferences. Even when not clear on your predisposition, try mixing around various decorating styles and see what appeals to you better and have fun creating your own unique type of design. Thanks to Essay Writing Service for contributing!