Not everyone wants a cookie cutter home. Keep reading for exterior home design: how to stand out in your neighborhood.
*Photos via POETRY OF PLACE: The New Architecture and Interiors of McALPINE
Whether you're the new kids on the block or lifelong residents, your home could use a new look. It's 2020 for crying out loud. Why does your home look like every other house in the neighborhood?
It's time for a home that's as bold as your personality. Who cares about raising a few eyebrows. You're a trendsetter in your own mind.
From crazy light displays to homes fit for Candyland, here are several ways to make your exterior home design stand out.
1. Go Back to the Stone Age
You may not be able to recreate Fred and Wilma Flintstone's iconic stone home, but you can draw your fair share of inspiration from it. Use this opportunity to incorporate stones into your home exterior design.
You could start with a new facade made from natural stone, like granite, limestone, marble, quartzite, or travertine. You could also use man-made stone alternatives and concrete, but natural stone is the most eco-friendly. It's also the most durable. Clean Image of Orlando can help restore your travertine pavers to restore it to its original glory.
If you don't want to give your home a stone exterior, you could always replace your current wood siding with natural stone. Wood siding deteriorates quicker. This will help prevent termite infestations and severe weather damage.
Another way to incorporate natural stone is to create a beautiful rock garden in your front yard. This will boost your curb appeal if you want to sell your home.
2. Get Inspired by Game of Thrones
Have you been desperately searching for a Game of Thrones replacement to no avail? Forget it. Just turn your home into a replica of Castle Black, The Red Keep, Highgarden, or the frigid Winterfell.
Your fellow GOT neighbors will love you for it. The other neighbors may call the city. It's probably best to keep your GOT inspiration to door decorations and garden decor.
3. A House That Beamed Down from Space
Are you bummed that you missed that big Area 51 "raid?" Recreate your favorite UFOs, space stations, and top-secret alien bunkers from pop culture's past!
You're not the only homeowner with a fascination with outer space.
Plenty of architects have created their own galactic homes, like Matti Suuronen, an architect from Finland. Suuronen was hired by Dr. Jaakko Hiidenkari to build a ski chalet. The result was a building that looked like a literal UFO.
This design inspired the "Futuro" homes of the 1960s. You can still find these UFO-shaped homes sprinkled around the U.S.
4. Desert-Inspired Dream Home
The desert is blooming with inspiration for home exterior design. Desert flowers, glittering sand, ice cream-colored sunsets, cacti, and natural stones are just a few themes to consider.
The deserts of the U.S. has some of the most unique architecture. Along with 60s Futuro homes, you'll also find gorgeous Pueblo Revival houses, southwestern ranches, and eye-popping Geodesic domes.
If you want just a subtle hint of the desert, you could create a textured facade inspired by Pueblo Revival homes. You could also try a stucco facade in coral, olive, light brown, or cream.
5. Become the Life of the Party
Are you the life of the block party? Live up to your reputation!
Turn your home's exterior into a true light show with lasers and twinkling light projectors. If you have enough negative white space on your facade, you could project movies on your home for neighborhood-wide movie nights.
Projectors are the latest alternatives to Christmas lights and outdoor string lights. Instead of wasting hours stringing lights, you can project lights directly onto your home, tree trunks, and canopies. This means the ladder can stay in the garage.
6. Candy-Colored Homes
Are you growing tired of the same old colors of your house? Have you always wanted to try a bold and brave new shade? This is your chance to do something big.
Draw inspiration from San Francisco's signature colorful homes. The "Painted Ladies," also known as the "Full House" homes, are the city's most famous dwellings. You can also find vibrant candy-colored houses in the city's Sunset District, Haight Ashbury, and Mission District.
Don't forget the colorful houses of Europe. Some of the most vibrant homes can be found in Germany, Spain, Denmark, Italy, and Poland. Mexico and Central America are packed with gorgeous multicolored homes, as well.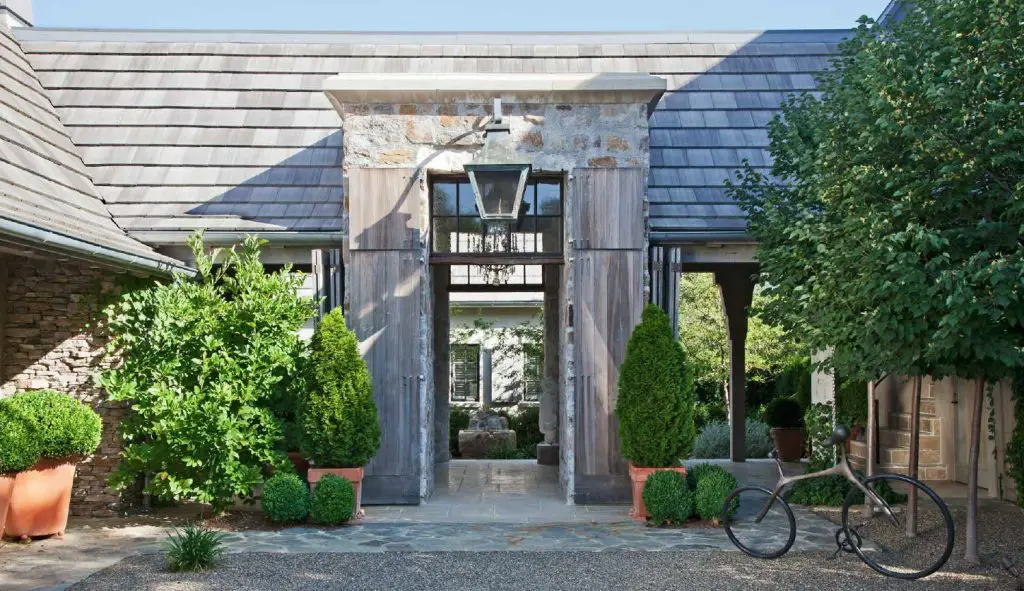 7. Keep it Classy
So, you're not the crazy neighbor. That's okay. You can always keep it classy!
Check out specific neighborhoods for inspiration, like classy estates on the East Coast, modern-contemporary classics by the bay, historic brownstone homes in NYC, or posh minimalist lofts.
You can find excellent inspiration for classy homes in Architectural Digest, Home & Garden, Elle Decor, and House Beautiful. Coastal Living Magazine is a great source for classy nautical homes by the sea. There's also Country Home Magazine if you want shabby chic ideas.
If you want an understated home makeover, throw on a fresh coat of paint to brighten up the outside. Update old siding, cracking roof tiles, and old windows. This is a good time to prune those overgrown trees and shrubs in your yard too.
8. A Garden Paradise
You're known for your Instagram-perfect garden. Show off your skills by expanding your garden to the front yard.
Channel your inner Edward Scissorhands and breathe new life into your shrubs. You may already have the right bushes to start. The best plants for topiary are Dwarf Alberta Spruce Trees, Boxwood Shrubs, and Arborvitae Shrubs.
Herbs are also a nice touch. Plus, they add a bit of aroma to the garden. Lavender, in particular, is perfect for gardens and smells divine.
Another bold statement would be Birds of Paradise. These plants have such personality and really stand out in the front yard.
You could also buy special vines that grow up the facade of your home. Be careful with these plants, though. They've been known to cause damage to homes. 
Reimagine Your Exterior Home Design
Are you ready to make a bold statement with your home? Quit playing it safe and consider these memorable ideas for exterior home design.
Discover more ways to inject a little personality into your home. Check back often for the latest trends in decor, home improvement, and interior design. Thanks to Manausa / Killearn estates for contributing