As some of you may, or may not know, we sold our first home and purchased a new one in August. We just managed to move in a few weeks ago. Why the 5 month delay? Because we decided to take the kitchen, dining, and living room down to the studs and remodel. Like they always do, it took much, much longer than we anticipated, and we paid dearly in blood, sweat, and tears. (and money.).
We, being our crazy selves, did a lot of the work ourselves, from buying materials, from painting, to assembling the cabinets. There are still a lot of little details that need to be completed – including missing toe kick, crown moulding, registers, etc., but now that we are living here the feeling of being in my dream kitchen that I designed, that I've wanted for years, is tremendous. Tremendous.
I still can't believe I have the white marble-look quartz counters I've always wanted, and white inset cabinets. The little details are spectacular too – from our oven hood trimmed in beams from the original farm house that stood on my parent's property, to the bar cabinet hardware in the perfect shade of champagne gold. Not too gold, not too brass, not too shiny.
For my cabinet pulls, I was lucky enough to partner with Fast Cabinet Doors. They have a well curated collection that varies from modern to traditional, and in many desirable finishes. What I was most impressed with is that they can help you pick out hardware to best work for your kitchen when it comes to functionality and look.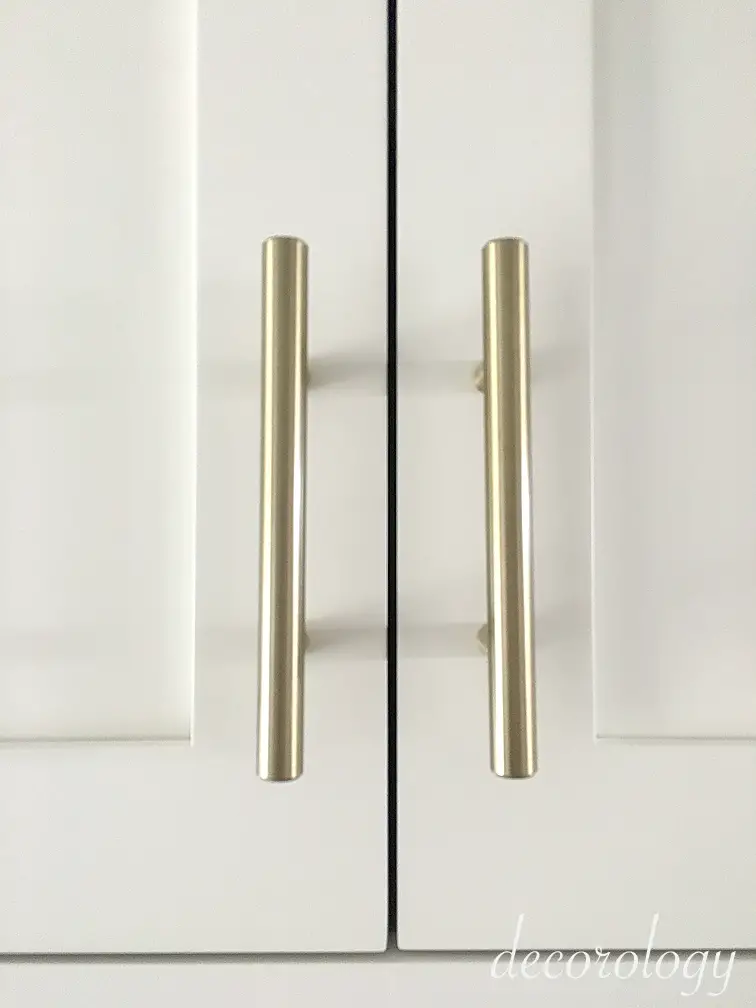 I new I wanted straight bar pulls in a few sizes (long for my tip out tray, medium for my drawers, and shorter for my cabinets.). I also knew I wanted a soft brass finish, which they also had. Straight bar pulls are a little more temperamental to install than curved ones, because if you are off at all any crookedness will be more visible. The look is spectacular though!
Fast Cabinet Doors also provided all the hardware needed for installation, and everything was packaged well. Shipping was super speedy as well.
I hope you've enjoyed my little preview of our kitchen remodel. I can't wait to show you the whole thing! Thanks to Fast Cabinet Doors for being awesome partners and for such great cabinet pulls!