Woodworking Projects
Working with wood is incredibly satisfying, and the pride of creating a really cool, useful object for your home is very rewarding. Wood furnishings and decor are solid, have a great feel and each has a unique pattern only nature could provide. The ability to find a design and make the item yourself from start to finish provides satisfaction that can last a lifetime. Woodworking does not require a workshop larger than a dorm room or a whopping budget. Building wood projects yourself has advantages and is a lot of fun. It requires only a modest budget for a few basic tools to get started. Some great practical starter projects are suggested below.
Benefits of DIY Woodworking
Making it yourself has several advantages. First, you can customize what you're building. Rather than search for the exact size, color and features you want, find a plan and create it. By making it, the choice of material, finish and size is in your control. A second reason is the cost. Even if you could find everything you want available for purchase, you may pay a premium for it. Making it yourself, especially when working with all-wood or reclaimed wood projects , is frequently far less expensive. A third reason is that creating items can be mentally stimulating. Using math, doing 3-D spatial visualization and following detailed directions engages the left side of your brain while the creativity of finishing a piece and improvising when necessary engage the right side. Woodworking uses both sides, so whichever side of the brain you normally use, most woodworking is a part comfort zone and part experience in new terrain.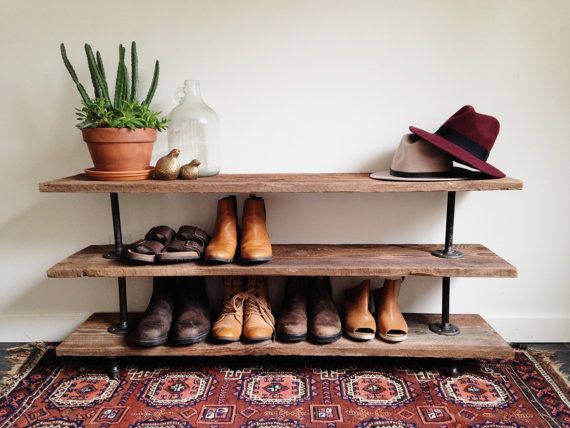 Tools to Get Started
A few basic tools will be required to get started. It does not have to cost too much at first. As you take on more challenging projects, you can upgrade some of the hand tools to power tools. All of these tools can be used for many other projects around the house with a power tools guide.
Power drill. It's worth spending money on a drill that gives not only good power but options for attachments. Some come with an impact driver, which can drive a screw without a pre-drilled hole. A variety of drill bits, including a countersink bit, screwdriver bits and paddle bits will come in handy. A pocket-hole jig to create angled holes is useful for many jobs. 
Miter saw.

A miter saw helps get straight or angled cuts exactly right every time and you will be surprised how often you use it. A compound miter saw does beveled cuts and a sliding variation will cut wider pieces of wood, so anticipate your needs, space and budget when buying. 
Circular or jigsaw.

A circular saw is the ideal tool for long lengths of wood, which the miter saw is unable to do. A jigsaw is light and flexible and best for cutting shapes.
Dremel tool.

I LOVE my dremel tool.  The more you use it the more you discover all the ways it can come of use around the house.  It can also add decorative effects to trim pieces or carve grooves to create joints where boards meet. You can sand, carve, clean and more.

Both the 4000 and the 4200 will serve you well but there is a cool difference between the two tools and there is no doubt that the newer 4200 offers a higher level of convenience. For more information head over to: https://besttoolreview.net/dremel-4000-vs-4200/

 
Hand tools

. An assortment of basic hand tools to have on hand would include a hammer and counterpunch, wood rasp and chisel set, sanding blocks and a variety of clamps.

Safety equipment.

Basic safety equipment to stock would include safety glasses, masks to avoid inhaling sawdust and ear protection
Suggested Starting Projects
Finding plans for projects is easy. Hundreds are available for free online or in library books and those TV shows with the giant workshops often offer their plans at the end of the show. Below is a list of woodworking projects perfect for a beginner that rely on basic tools. Accessories: A variety of easy-to-make home accessories are available that will be practical and help you get to know your tools.
This super-easy

cutting board

uses a variety of woods for a striking effect, although it requires a power sander or planer.

 
Storage: Everyone can use more storage options and shelves are a good first project.
Tables: Tables offer a variety of uses, indoors, outdoors and in the workshop. Here are three inexpensive designs that are easy to build and can be used in a number of ways:
Garden planters: Outdoor garden items make good starter projects because they're often simple to make and there's less perfection expected for items that are going outdoors. The last two projects call for expensive cedar because it is naturally weather-resistant, but a less expensive wood could be substituted and coated with outdoor paint, especially if the plants are going to be in individual pots.
These super-simple

plant stands

create a designer look for a few bucks.

 

This

window box

would add instant curb appeal.
At the end of a woodworking project, you have a customized item ready for use, but that's not all. You also have additional skills that have prepared you to tackle your next project. Thanks to Dremel for contributing!