Given that you spend one third of your lifetime sleeping, it's probably important to you to have a beautiful bedroom to retire to each evening. A comfortable and attractive room can set the mood for proper relaxation and make your bedroom a space that's enjoyable to spend time in.
Adding a wallpaper accent wall to your sleeping quarters can be a simple way to reflect your style and tastes while still keeping a restful vibe. Read on to discover ways in which wallpaper can become part of your bedroom design plan.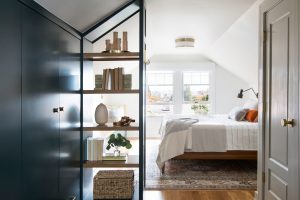 Complement Your Color Scheme
Covering a single wall in your bedroom with wallpaper can be a wonderful way to complement the color palette of your room. You can keep it simple by choosing a tone-on-tone pattern that goes well with the colors featured in your bedroom, or pull together the subtle pops of color that may be scattered around the room with a graphic, tropical or flower pattern wallpaper.
While you might instinctively cringe at the thought of floral walls, the best modern patterns are a far cry from your grandma's kitschy wallcoverings. Bear in mind that if you're seeking maximum tranquility you may want to avoid loud or bright colors; sticking with muted tones will be pleasing and soothing rather than overwhelming.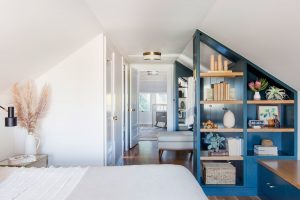 Add Geometry and Repeating Patterns
Bedrooms tend to be filled with the softer textures of bed linens, carpeting and pillows. To keep the room from looking too humdrum, consider adding wallpaper with a geometric pattern to bring depth to the room. Blue wallpaper with a linear or dotted design can add dimensional visual interest while also creating a sense of tranquility.
Wallpapers that feature dramatic repeating medallions, swirls and stripes can balance out the soft fabrics in your room. Using lined and other geometrically patterned paper on a single wall is another way to add character without boxing you in.
Create a Focal Point
When employed creatively, wallpaper can do much more than just cover your walls. For instance, wallpaper with a landscape or other dramatic design can be mounted on a single wall as if it were a piece of art. It can even be framed or adhered to a canvas to add artistic appeal.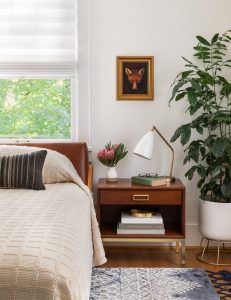 Wallpaper can also be placed on a wall in a way that mimics furniture; think of mounting a dramatic black patterned wallpaper behind your bed to create a faux headboard. Using wallpaper accents in such minimal yet unique ways can give your room a focal point, while still maintaining the sense of serenity so critical to space.
Using wallpaper on a single wall in your bedroom can add interest and flair without taking over the entire space. Whether you want to bring in colors or patterns or get creative by using wallpaper on an accent wall in unique ways, it's easy to use this material to bring stylish good looks to your bedroom.
Browse the internet for ideas on how to implement wallpaper into your room design, then shop for great options from the comfort of your own bedroom. Thanks to wallshoppe.com for consulting.