The average cost of a walk-in tub and shower is around $3000 to $12,000, depending on the features and style you want. If you want all the basic safety features included, then the price range of $1,000 to $3,000 can be more than enough. However, this could be higher if you prefer to get luxurious brands.
Overall costs can vary because there's still installation and labor to consider. For example, adding jets for a larger walk-in tub will save you a few bucks compared to just the standard sizes. There are also the grab bars and non-slip flooring that you need to add aside from the tub and the shower, so you might want to include them in the costs as well.
Aging Comfortably
Many want to grow old inside their houses instead of going to nursing homes. However, this will come with a few tweaks and necessary changes so you can be more independent for as long as your health allows. This can also apply to people with medical illnesses and disabilities that greatly affect their movements. They are required to go into more accessible homes, and one of the most frequent rooms that they are going to use is the bathroom.
The installation of showers and walk-in bathtubs is an important investment for security and safety. This will also help maintain your overall health because you'll be able to bathe and maintain your sanitation even if you have mobility issues. Another bathroom remodeling for more assisted living can add value to the home when you decide to sell this in the future.
When considering the overall costs of the tub, you should consider many factors before agreeing to anything. First, check the cost here and know more about the average lows and high-end models that are currently available in the market. The next step is to decide on the features and sizes of the tub. Here are some things to know about.
Average Costs of the Basic Features
The basic ones with the shower will cost around $1,000 to $3,000. However, you can find other brands that offer $5,000 basic tubs, but they come with whirlpool jets and are wheelchair-accessible. One of the best ways to go about this is to compare the prices of different brands and shop online to know more about their features. For those who are tight on budget, financing options are available, especially if they can't afford to pay everything in full. Some of the types that you might see online are:
Bariatrics
The bariatric is designed to fit heavy and larger people so they can soak and take a bath comfortably. They are wider than the traditional varieties; some have seats and doors for better mobility. Bariatric designs are generally built for individuals who weigh around 300 to 700 pounds. Usually, the basic types can only accommodate the ones weighing approximately 250 to 300 pounds.
When buying the bariatric type, you can expect this to come with basic safety features like grab bars, low-entry thresholds, and anti-slip mats. Other brands might even have built-in easy lock handles and quick draining features. However, since the tub is larger than the regular-sized ones, it can consume a lot of water.
They are costly, but they can be worth it, especially if the older adults that need them are large and need to be comfortable during bath times. Their prices can be from $4,000 to $6,000. This is only the average, and the price tag can increase if you go with popular models and add other features. See more about the pros and cons of the tubs on this site here.
Lay-Downs
The lay-downs are generally similar in design to the walk-in varieties but come with detachable seats. They can come with a shower installation, and the seats can easily be detached. They are helpful for people who have a condition that makes it challenging for them to sit upright. They have all the safety features like armrests that can be adjusted as needed.
However, their bigger size would mean that you won't find them to fit well in the space left by your previous tub. You might prepare a budget for installation costs, which can be similar to an alcove bathtub made up of porcelain. You can choose different finishing and door options with them, and the tub alone can cost around $8,000 on average and this can include showers and installations.
Wheelchair Accessible Types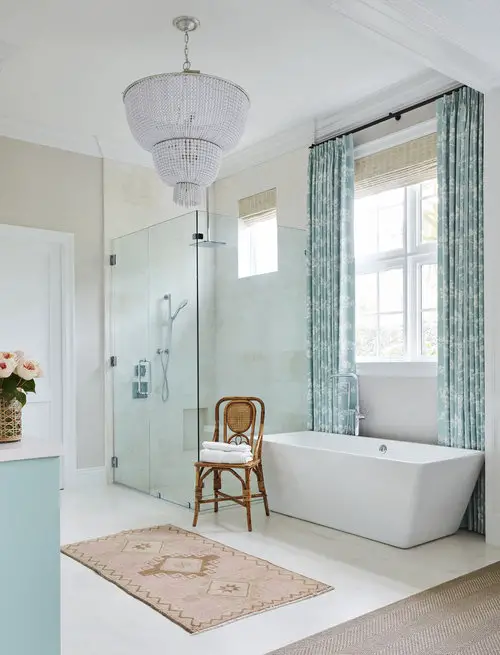 The safe step walk-in or roll-in tubs are wheelchair accessible. These are safer options for individuals who struggle to stand from their wheelchairs but want to shower. The entrance is wide and flat enough so the wheelchair can easily be rolled into the tub. They have lower seats with wider doors, which will be an excellent option for people who want to go to a shower bench to get a good bath.
With these types of inclusions like anti-slip flooring and grab bars, others have lifts to prevent injuries. Their prices can vary, but generally, the basic ones can range from $3,000 to $7,000 depending on the size, model, make, and brand.
Soaker
The soaker is the typical walk-in bathtub that's very popular among older adults. They hold water and are taller, allowing for more comfortable relaxation and submersion. You can expect them to cater to people who are in need of hydrotherapy, and there's the feeling of almost being weightless when one is soaking in deep waters.
They might come with raised seats, grab bars, and other basics. However, wanting to get the ones with the extra bells and whistles might come with an additional price. They are often the best option for families, and they are also safe for children. They do wonders for the elderly and the kids as well. They can cost around $1,500 to $7000.
Others might add aromatherapy where the scents can make them relax better, while some want custom benches so they can be cozy while bathing. You can ask about these additional features from the right manufacturers, and don't forget to shop around and compare prices before making the final decision to buy.
Thanks to all companies linked above.