Different types of flooring call for different approaches to cleaning. Not to mention, the most appropriate tools for the job. A cutting-edge carpet cleaning vacuum might work well on a deep-pile rug, but could be more or less useless on marble.
With such a dizzying array of floor coverings out there, it can be difficult to know where to start. Nevertheless, the vast majority of American homes feature floor coverings that can be grouped within one of the following five (sort-of) categories.
Even if your exact floor covering isn't covered in the following, you'll get the idea of what you should be doing to keep it polished and presentable:
Linoleum Flooring
The best way to clean a linoleum floor is with a steam mop, which isn't a particularly expensive appliance these days.
Otherwise, it's a case of sweeping or vacuuming the surface to remove residual debris, before washing it thoroughly with a mild dish soap solution and finishing with a final polish for a streak-free shine.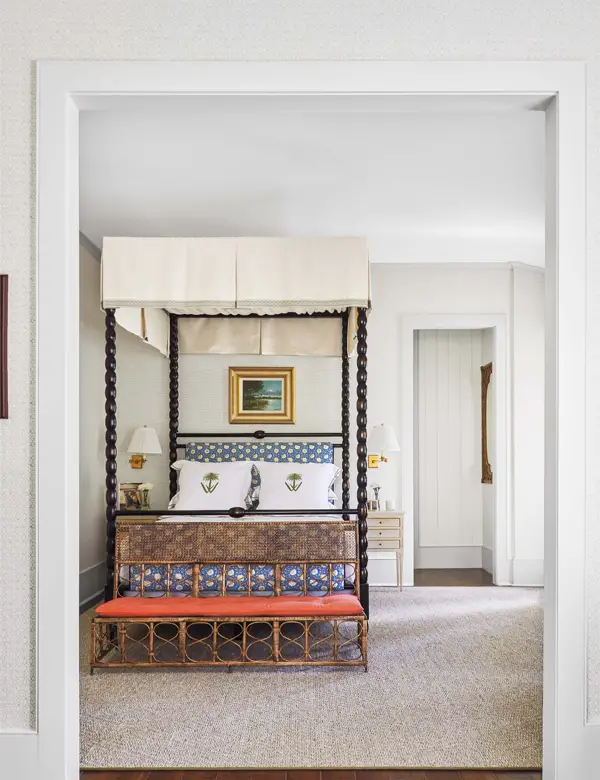 use with permission from Jane Beiles Photography
Carpet Flooring
The key to keeping carpets clean and fresh is to ensure they are vacuumed on a regular basis. Once or twice a week is fine, but get to work on your carpets more often with a high-quality carpet cleaning vacuum and they'll stay perfectly pristine for longer.
Manually shampooing carpets and rugs is an option, but it's far easier to use a specialist carpet cleaning vacuum that vacuums, shampoos, rinses and dries in a single pass. If you've carpets around the home, it's an appliance you won't regret investing in.
Vinyl Flooring
Durable and exceptionally easy to clean, vinyl flooring can be brought to a beautiful shine with a quick spray and mop. A mild dish soap solution (with a few drops of vinegar) can work wonders on vinyl flooring, or you can pick up a specialist vinyl floor polish from just about any store.
Like linoleum, giving vinyl flooring a deep and intensive clean means reaching for a steam mop on occasion. This is also the best way of getting rid of any stains that have worked their way into the material.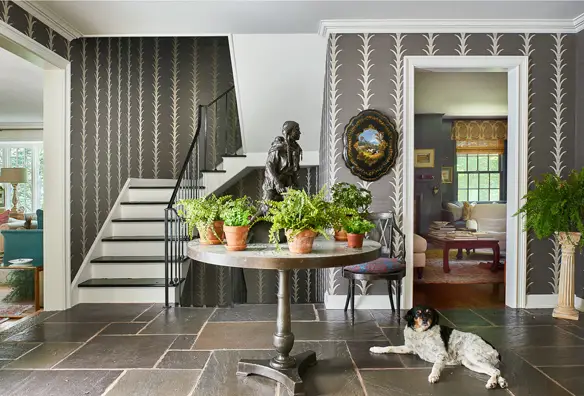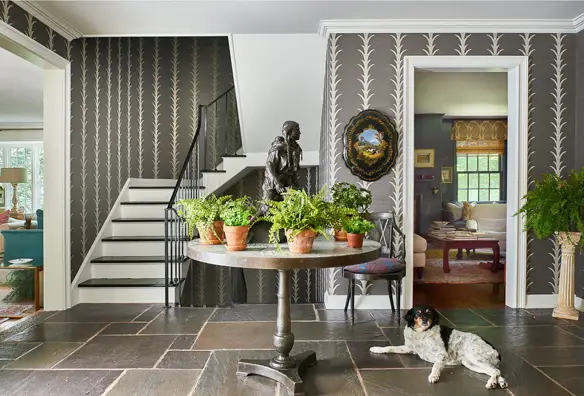 use with permission from Jane Beiles Photography
Slate Floor
Natural slate flooring is particularly challenging to keep clean and hygienic, though is worth the effort for its fantastic looks and pure prestige. Specialist cleaning products for slate floors are available, but a DIY solution comprising warm water and vinegar works just as well.
A light-bristle broom is best for removing residual dirt and debris, after which a gentle mop will usually take care of the rest. Some slate floors can be surprisingly easy to scratch and scuff, therefore may not be compatible with your current vacuum cleaner.
use with permission from Jane Beiles Photography
Hardwood Floor
If you're lucky enough to have a real hardwood floor at home, you'll want to do everything you can to preserve its luster. The most appropriate cleaning method will be determined by the type of wood your floor is made of, along with the way it is finished/polished.
If your hardwood floor has a wax finish, try to avoid using any liquids or solutions to clean it – stick with an appropriate vacuum, or a dust mop. For polyurethane-finished hardwood, a mild soap and water solution (or an approved cleaning product) is fine, though anything that contains vinegar should be avoided at all costs.
use with permission from Jane Beiles Photography
In Summary…
All floor coverings have their own unique requirements and restrictions where cleaning is concerned. Rather than leaving things to chance, it's worth considering the materials you're working with and setting yourself up with the equipment you need accordingly.
Try to remember that with appliances like vacuum cleaners, there's no such thing as a 'one size fits all' device for all types of floors. By ensuring you use the right tools for the job, you'll find this most arduous of domestic duties a little less tiresome to tackle. Thanks to A Proud Home for consulting.